The polar bear
Rests on a snowflake.
 
The penguin
Sleeps on an ice cube.
 
The great blue whale
Swims in a raindrop.
 
The coyote
Paces on a blade of grass.
 
The eagle
Flies in a thimbleful of sky.
 
The silverback gorilla
Climbs a leafless toothpick.
 
The honeybee
Seeks nectar from plastic flowers.
 
The monarch butterfly            
Flitters within a gasp of breath.
 
The humans,
The humans, the humans, the humans
Thumb their phones,
Not noticing they exist on a speck of dust.


© by Larry Schug.
Used with the author's permission.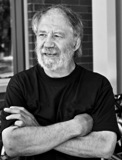 Larry Schug is retired after a life of various kinds of physical labor and currently occupies his time by volunteering as a writing tutor at the College of St. Benedict/St. John's University writing centers and as a naturalist at Outdoor U. He's also learning to play a cigar box guitar and is branching into putting music to words. Larry has published eight books of poems and lives with his wife, dog, and two cats near a large tamarack bog in St. Wendel Township, Minnesota.
rhonasheridan:
Absolutely brilliant. Sorry about spelling but it has given me the chance of saying again how I love and admire that poem.
Posted 10/17/2018 04:02 PM
rhonasheridan:
Mervelous
Posted 10/17/2018 03:46 PM
Jo:
spot on and very cleverly done. Less is more is sure true in your poem, Larry. I enjoyed it very much.
Posted 10/16/2018 08:45 PM
Lori Levy:
Great images!
Posted 10/16/2018 06:12 PM
Arlene Gay Levine:
This powerful poem brings to mind Whitman's I THINK I COULD TURN AND LIVE WITH ANIMALS...well done!
Posted 10/16/2018 01:17 PM
Glen Sorestad:
Wow, Larry. This one really hits home. It is brilliantly executed!
Posted 10/16/2018 12:59 PM
michael escoubas:
Yes! Quite sobering, Larry. Like your images and contrasts. I'm taking notes!
Posted 10/16/2018 10:26 AM
DavidTookey:
Fantastic pictures. Well done!
Posted 10/16/2018 10:00 AM
wordartdjc:
Insightful and such strong images. I truly enjoyed it.
Posted 10/16/2018 09:48 AM
Jean Colonomos-1:
strong images that reach the deep.
Posted 10/16/2018 08:39 AM
cork:
The repetition of "humans" and the "thumbing of their phones" are powerful tools. Great work!
Posted 10/16/2018 08:31 AM
jeeger:
Just love your poems Larry! I see your name and know I'm in for a treat!
Posted 10/16/2018 08:10 AM
plgoodman:
You nailed it Larry. Very crisp and though provoking!
Posted 10/16/2018 07:44 AM
pwax:
An original (and very poetic) way of looking at this subject. Nice!
Posted 10/16/2018 07:42 AM
Charly:
Perfect comment on our humanity!
Posted 10/16/2018 07:14 AM
Jane Eva Cooper:
Brilliantly sobering!
Posted 10/16/2018 05:59 AM