Dad says he has a job for me,
drives me to school, my bike
in the back. In the afternoon
I ride through date groves
from Indio to Coachella.
In a small office in the corner
of the plant, my spot
is a desk where I type up orders
scrawled by salesmen
who can find surprising ways
to spell DeBonne and Vladimir.
Itís pleasant here; the grownups
crack jokes, play music,
when Dad is in the field.
When his pickup is spied
in the driveway, word goes out
and comes back in like a cold wind.
Backs straighten, conversation
freezes, souls shiver
as we get a read on his mood.
At quitting time we drive home,
Dad and I, a handful of words
between us, him singing along
to a country song, squinting
into the sun.


© by Tamara Madison.
Used with the authorís permission.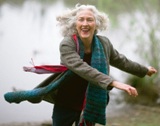 Tamara Madison is the author of the chapbook, The Belly Remembers, and two full-length volumes of poetry, Wild Domestic and Moraine, all published by Pearl Editions. She is a dog lover, a swimmer, and a native Californian who has lived in many different places in the U.S. and abroad. Tamara is thrilled to have recently retired from teaching English and French in a Los Angeles high school, and still more thrilled to have recently become a grandmother.
wordartdjc:
So Sweet...Simple and soulful.
Posted 10/24/2018 08:37 AM
Lori Levy:
I agree. Expressed in simple language, but says a lot.
Posted 10/22/2018 04:04 PM
wendy morton:
A good poem, so many levels of meaning.
Posted 10/22/2018 10:57 AM
Sharon Waller Knutson:
I loved this well written nostalgia poem. The narrator's relationship and characterization of her father sounded like mine. My favorite lines were: word goes out like a cold wind and singing along to a country song, squinting in the sun.
Posted 10/22/2018 10:07 AM
michael escoubas:
My father had a business in our rural hometown. There were many burdens associated with it--your insights ring poignantly true. Excellent poem, Tamara!
Posted 10/22/2018 09:05 AM
cork:
When the cat's away, the mice will play.
Posted 10/22/2018 08:24 AM
Larry Schug:
A poetic lesson on the "real world" learned at an early age. A big story in few words. Nice!
Posted 10/22/2018 06:34 AM