Morning was in a marvelous mood—

Sun, like a flame thrower,
over the horizon came
spreading its grand mantle of light

In one sweeping gesture,
dismissed all traces
of night



© by Jana Kalina.
Used here with the author's permission.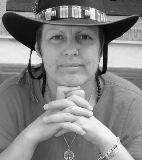 Jana Kalina lives with her husband on Vancouver Island. Given her background in social sciences and journalism, she's found her voice in what she calls poetic journalism — a way of documenting her Bohemian family history and her life (from a young age) in the many countries she's lived in and travelled through.
Lori Levy:
Especially like the image of the sun as a "flame thrower."
Posted 10/28/2018 10:33 PM
barbsteff:
Love the first line!
Posted 10/28/2018 05:15 PM
wordartdjc:
So well thought through in succinct lovely language.
Posted 10/28/2018 11:13 AM
Jean Colonomos-1:
I love the first line. It's originality carries through the whole poem.e
Posted 10/28/2018 10:32 AM
cork:
Our morning sun is now sweeping the willows with flame.
Posted 10/28/2018 09:33 AM
michael escoubas:
Wonderful, all-encompassing poem! Thank you Jana.
Posted 10/28/2018 08:36 AM