Afternoon. It rains–
clouds come quickly, fill up the sky.
Water falls –hard and swift.
In flooding streets and overflowing drains,
plastic shoes, bags, bottles,
fallen palm, fig, teak leaves.

Horns honk, brakes screech,
buses roar on by.
The motorcycles gather
behind overloaded trucks,
push forward onto sidewalks
across lanes, into
any small space.

Motorcyclists stop.
Pull on rain capes,
wrap children in their arms,
tucking them close. Head out
onto slippery streets.
I pray for the small arms and feet,
angled, open, exposed to
all that comes, so close.

In the morning, at dawn,
far below my hotel window,
a man with a broom sweeps puddles
from the quiet street.


This poem first appeared in Musings (Collingwood Writers' Collective, 2017).
Used here with the author's permission.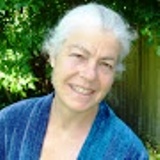 Susan Wismer likes to go for long walks, write poetry, then walk some more. Within her family, which is broadly defined, she says she is famous for eclectic (and occasionally unpalatable) vegetarian cookery and her sense of humor, passed down from her mother.  Susan lives on Anishinaabe territory at Georgian Bay, in Ontario.
Lori Levy:
Love all the details. Great poem!
Posted 10/29/2018 04:46 PM
michael escoubas:
Susan, you place me there, in Jakarta's crowded streets, I hear the blare of horns.
Posted 10/29/2018 09:59 AM
KevinArnold:
Jangling through Jakarta. Well done.
Posted 10/29/2018 09:00 AM
Janet Leahy:
We are here in the street with the horns and brakes and buses. Susan your poem carries me away, an immediate escape on this autumn morning.
Posted 10/29/2018 09:00 AM
wordartdjc:
This takes us out of our easy, comfortable world and into quite another.
Posted 10/29/2018 08:54 AM
Sharon Waller Knutson:
I loved this poem. It was so picturesque and powerful. It transported me to the streets of Jakarta. My favorite line was: I pray for the small arms and feet, angled, open, exposed to all that comes, so close.
Posted 10/29/2018 08:40 AM
cork:
The noise in the first three stanzas contrasts nicely with quiet of the fourth.
Posted 10/29/2018 08:19 AM
Contents of this web site and all original text and images therein are copyright © by Your Daily Poem. All rights reserved.
As an Amazon Associate I earn from qualifying purchases. Purchasing books through any poet's Amazon links helps to support Your Daily Poem.
The material on this site may not be copied, reproduced, downloaded, distributed, transmitted, stored, altered, adapted,
or otherwise used in any way without the express written permission of the owner.