†††††††††††††††† (For Anne in the blue Keds)

Can you imagine when this
Flipping, flitting, loose flying
Monarch butterfly gets at last
To the Mexico tree, when
In that rain forest, at last, it
Hugs that orange and black thick
Tree it will say, Hey Guys, guess what?
See I was dead in the sea, sand up
The wazoo and see, some lady
In blue Keds, lifts me outta the sea,
See breaths into my salt stuck wings,
Flicks sand off my wazoo, says,
Come on baby, you can fly. See, she says
This. Baby, do it. And flicks more sand
Off my sodden wings, says baby, baby,
Baby, fly. Flicks off more sand
Then Iím lifting one wing, then two, then, see,
Three, four and I go. See.


© by Ruth Moose.
Used here with the authorís permission.
†
†
†
†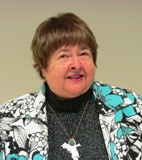 Ruth Moose was on the Creative Writing faculty at the University of North Carolina-Chapel Hill for 15 years. Author of three collections of short stories and six collections of poetry, her work has appeared in publications all over the world. Ruth, who lives in Pittsboro, North Carolina, was awarded a MacDowell Fellowship and, in 2009, received the prestigious Chapman Fellowship for Teaching. Her debut novel, Doing it at the Dixie Dew, was awarded a $10,000 Malice Domestic Prize. Ruth's most recent novel is Wedding Bell Blues (St. Martin's Press). Learn more about her at www.ruthmoose.com.
Dorothy WildhagenD:
How we heal, one wing at a time until we fly again.
Posted 11/18/2018 10:28 PM
Lori Levy:
Great portrayal of the "lady in blue Keds" helping the Monarch butterfly!
Posted 11/02/2018 10:30 PM
transitions:
Hooray! A beautiful life saved!
Posted 11/02/2018 05:10 PM
Mary Lou Taylor:
Ah, yes. Poetry at its best.
Posted 11/02/2018 01:44 PM
anthonyannemarie:
Such a small victory, but remember how happy it made us both to see her fly overhead, return several times as if to thank us both, and then fly off to live another day? Simple, heart-filled joy. Thanks for recalling that day, Ruth, in such beautiful poetry!
Posted 11/02/2018 12:49 PM
joecot:
Thank you so much, lady in blue Keds.
Posted 11/02/2018 11:41 AM
wordartdjc:
Truly enjoyed this poem. Ruth, you have taken such an uplifting, (no pun intended) 'take'on your beautiful little escapade.
Posted 11/02/2018 11:35 AM
michael escoubas:
Wonderful lyric, Ruth! Thank you.
Posted 11/02/2018 10:14 AM
Jean Colonomos-1:
Such a lovely poem. There's a wonderful book by Susan Halpern titled FOUR WINGS AND A PRAYER about the monarchs.
Posted 11/02/2018 09:35 AM
cork:
I remember reading about their Lake Erie annual crossing. Nice to see that one got some help.
Posted 11/02/2018 08:27 AM
Larry Schug:
I've got a dozen reasons for liking this poem-butterflies themselves, their plight, the role humans play, the butterflies voice, how the poem is serious, yet funny. There is much skill involved in pulling this off in a few short lines.
Posted 11/02/2018 07:42 AM