For every action, there is an equal and opposite reaction

go come
born die
wake sleep
land fly
run stop
start stall
spread retreat
push fall
†
cry laugh
clutch throw
mute shout
hide show
†
part combine
swell thin†
gather fling
end begin


© by Lisa Vihos.
Used here with the authorís permission.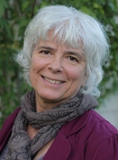 Lisa Vihos began writing poetry in college, then changed direction and became an art museum educator for twenty years. In 2007, she returned to poetry, her first love. Now the author of four chapbooks and a brand new anthology, Van Gogh Dreams, Lisa works as a grant writer at the John Michael Kohler Arts Center in Sheboygan, Wisconsin, and is the poetry and arts editor of Stoneboat Literary Journal. She is also an organizer for 100 Thousand Poets for Change.


barbsteff:
Actually, this is physics, not math!
Posted 11/05/2018 01:41 PM
barbsteff:
Imaginative structure. Shows what Newton's Third Law is. I love the conciseness of it.
Posted 11/05/2018 01:40 PM
tiddles:
Good one, Lisa! MZW
Posted 11/03/2018 05:04 PM
Janet Leahy:
Good word choices for sound and rhyme.
Posted 11/03/2018 01:48 PM
TheSilverOne:
Few words...much said.
Posted 11/03/2018 11:57 AM
wordartdjc:
Interesting poem. Surely a departure from the norm. I enjoyed it.
Posted 11/03/2018 09:30 AM
Gilbert Allen:
That final line is my favorite--open closure!
Posted 11/03/2018 07:59 AM