Yesterday's dishes I won't put away
though they're thoroughly dry in the rack
For I know they'll demolish the mood of the day
if I should start putting them back.

No matter how gently I place them in piles
the plates will not quietly go;
They are being imprisoned without a fair trial
and they want the whole household to know.

The cups and the saucers demanding their rights
in protest will shout loud and clear.
"Though melmac and styrofoam keep out of sight,
we're china, we're proud and we're here."

The glasses, for their part, are sneaky today;
these girlish sopranos conspire.
If I take two or three to the cabinet, then they
will become a boisterous bell choir.

I take hold of a knife or a fork or a spoon
and regardless how much I implore,
It insists on clanging objection as soon
as I lower it into the drawer.

The casserole covers, when put on the shelves,
continue complaining. I'm sure
That the pots and the pans consider themselves
percussion for some overture.

If I can preserve for this little while
some peace, then I'm going to try.
So instead of getting the dishes all riled,
I elect to let sleeping bowls lie.


From Celebrations (CreateSpace, 2014).
Used with the author's permission.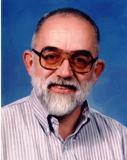 Bill Batcher considers himself "a poet under construction." A retired teacher, his poetry has appeared in magazines, anthologies, and online collections, he has won several awards, and is the author of four books. Born in Queens, New York, Bill and his wife have been moving eastward on Long Island ever since, recently settling in Greenport.
MLove:
I love this! How funny that right before I read it, here were my thoughts: 1) I should put away the dishes 2) No, hubby is napping 3) I'll catch up on Your Daily Poem and other email until he wakes up.
Posted 11/24/2018 11:47 AM
michael escoubas:
My sides are splitting, Bill. Thank you!
Posted 11/23/2018 09:22 AM
cork:
I waited until this morning to clear the dry rack. It was a good move on my part to avoid resistance. Thanks.
Posted 11/23/2018 08:35 AM
wordartdjc:
Great! I will think now of the 'soul' of my china.
Posted 11/23/2018 08:16 AM
Larry Schug:
Proof that poetry is, indeed, everywhere.
Posted 11/23/2018 06:27 AM
jeeger:
Now THAT was fun! Thanks Bill!
Posted 11/23/2018 05:40 AM