November is the cruelest month,
despite what certain poets say;
the brilliance of October's leaves,
their full regalia on display,
is dulled by grim November's gray,
whose brutal winds strip bare her trees.

The sun begins a slow retreat
behind the cover of wet clouds;
the day is shortened, like a breath,
caught beneath a falling shroud;
the nighttime silence seems so loud,
a dark approximating death.

What sights of summer still remain,
what smells and tastes of June, July,
are memories preserved in jars
of fruit, caressed and kissed by skies,
or flowers, pressed, heads once held high
to chase the sun, now fallen stars.

What has November to compare
to sullen pleasures of the spring?
As cruel as April seems to be,
the turbulence that month can bring,
there's still a promise on the wing
of earth in sweet fertility.

No, November is best endured,
its days held lightly, like the beads
of a rosary used in prayer,
an invocation of our need
to fill our hands once more with seed,
to breathe in blossoms of May air.


© by Mike Orlock.
Used with the author's permission.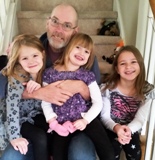 Mike Orlock is a retired high school English and American History teacher who splits time between the Chicago suburbs and a vacation home in Sturgeon Bay, Wisconsin. He has been married for 43 years to his high school sweetheart and inspiration, Liz, and greatly enjoys being grandfather to five beautiful granddaughters who keep him "jumping like a frog on a hot skillet." Mike's short stories, poems, and reviews have appeared in a variety of publications and he was a Jade Ring winner in a contest sponsored by the Wisconsin Writers Association.
Kathymc:
Love the poem Mike!
Posted 11/28/2018 08:43 AM
Jo:
Beautiful poem, Mike.
Posted 11/27/2018 08:49 PM
Lori Levy:
Great job of capturing November.
Posted 11/27/2018 12:49 PM
apples33@juno.com:
I love "blossoms of May air"!
Posted 11/27/2018 11:54 AM
cork:
Why does your opening line sound so familiar?
Posted 11/27/2018 08:26 AM
Gilbert Allen:
An eloquent poem. I especially enjoyed the simile in the second stanza.
Posted 11/27/2018 08:18 AM
wordartdjc:
My, I loved this poem immensely. It has such meaning in a pleasing manner of rhyme. Thank you.
Posted 11/27/2018 08:13 AM
Jean :D:
Love this poem that tells it like it is. It could be depressing but the lines of canning goods and pressed flowers redeems it all. It felt like a short nap between summer and the hectic days of the Christmas season (& sales & bad weather.)
Posted 11/27/2018 06:53 AM
Larry Schug:
There are days in the summer, abundant with humidity, deer flies and mosquitos that I almost wish for a little taste of November as this poem describes. Almost.
Posted 11/27/2018 06:32 AM
r1manchester:
you are right on with that thought Mike. NH in November is dished out with rain, snow, slush, icy roads, gusts of 30 mph NW winds and cold, cold temps.
Posted 11/27/2018 05:06 AM