When the rain stopped today,
all was still, grey and cold.
Straw bales were calling, wanting
my hands
to break them apart, spread them about,
winter the vegetables, hug the late chard, the turnips,
the kale.

Let the first frosts of winter take what they might
Let them spare what still grows

Maybe in springtime
after deep snow has come, melted and gone,
there will be something still living,
something to hold —

Brave green shoots
for my waiting hands.

This poem first appeared in Musings: An Anthology of Work by the Collingwood Writers' Collective (Collingwood Public Library, 2016).
Used here with the author's permission.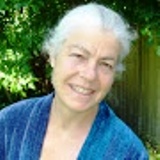 Susan Wismer likes to go for long walks, write poetry, then walk some more. Within her family, which is broadly defined, she says she is famous for eclectic (and occasionally unpalatable) vegetarian cookery and her sense of humor, passed down from her mother. Susan lives on Anishinaabe territory at Georgian Bay, in Ontario.
Lori Levy:
Love the hope that comes through despite the rain, cold, frost.
Posted 11/29/2018 01:54 PM
wendy morton:
A garden of a poem.
Posted 11/29/2018 11:53 AM
barbsteff:
"...to break them apart, spread them about, winter the vegetables, hug the late chard, the turnips, the kale." Such a lovely cadence here. I'd rather read about vegetables than eat them to the exclusion of meat!
Posted 11/29/2018 10:00 AM
wordartdjc:
Seasons have always made for the creation of poems. We like to ponder the next one as we wait for it, I believe.
Posted 11/29/2018 09:43 AM
KevinArnold:
Interesting to use winter as a verb.
Posted 11/29/2018 09:32 AM
michael escoubas:
I like the way this poem takes me into the garden, gets my hands dirty, causes me to "hold" life in them. Thank you Susan!
Posted 11/29/2018 08:35 AM
Larry Schug:
Hope springs eternal--nicely illustrated in this poem.
Posted 11/29/2018 07:13 AM