Can't get enough of it ever--the flight
of birds. I love their navigation: precise

as mathematics, their gyroscope-intricate
lift-and-return. They're wild to bet

it all in this older than thee-and-thou ballet.
Again and again: the of joy of assay.

As though one mind had many hands,
they sculpt the air, slice away with abandon

leaving what can only be a rubble
of light and air in their wake. I'd double

down too, if I could play this subtraction
game: quick wit, quicker reaction, piston-

push, hairpin-turn, crossing vectors. Blur.
For a moment it all seems to blend, whirl.

What is air? What bird? Oh this rais-
ing of body, loosing of spirit is praise,

soaring praise.


This poem first appeared in Birdsong (Foothills Publishing, 2017).
Used here with the author's permission.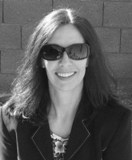 Paula Schulz has taught students in kindergarten, college, and a few grades in between. She is involved with the Poetry People in Waukesha, and has poetry forthcoming in The Anglican Review in 2019. Paula lives with her husband, Greg, in Slinger, Wisconsin.
wordartdjc:
Makes me wish that I could join the birds in flight. This captures it so gracefully.
Posted 12/02/2018 10:01 PM
Jo:
And soaring praise for the poet. Beautiful flight of imagination in your couplets. Form and context one. A beautiful poem.
Posted 12/02/2018 01:24 PM
Dorothy WildhagenD:
Very nice. Getting into the personality (?) of a bird. I enjoyed this poem.
Posted 12/02/2018 12:25 PM
mjorlock:
I love the clever rhyme scheme employed in this poem. It's a ballet of its own kind.
Posted 12/02/2018 10:06 AM
KevinArnold:
Not free verse but free (and freeing) rhyme.
Posted 12/02/2018 09:58 AM
Janet Leahy:
I can see them now as they "slice away with abandon." Love the language in this poem. Thanks Paula for the gift of an exquisite poem.
Posted 12/02/2018 07:55 AM
SaraS:
Lovely to see you posted here! You've captured the dance of the flock beautifully!
Posted 12/02/2018 07:39 AM
Larry Schug:
Yes, birds! We're lucky to be living in a time when the beautiful descendants of dinosaurs don't want to eat us, rather bring us beauty and inspire wondrous poetry. Let's care for them.
Posted 12/02/2018 06:30 AM
becky evans:
A beautiful poem! I love your rhymed couplets, especially the last one with "rais" and "praise" -- also "rubble of light and air...."
Posted 12/02/2018 04:55 AM