I want to write something
that will be translated
into at least
twenty languages
or create a product
that will be shipped
worldwide
or maybe paint
a picture that
will be put in a
bulletproof frame
and periodically restored
by gentle experts in white gloves
but I guess I must accept
that the most I will ever achieve
is to maybe do a little something
that someone like you loves


© by Ivan Jenson.
Used with the author's permission.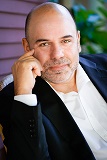 Ivan Jenson is an artist and writer who lives in Grand Rapids, Michigan. A noted artist whose paintings and portraits are featured in many distinguished collections, he is also the author of several novels; his poems have appeared in numerous print and online journals. Ivan enjoys writing at the library in East Grand Rapids, which he says has "a fantastic view of Reeds Lake;" his most recent work is Gypsies of New Rochelle, a fictional memoir loosely based on his own family. Ivan enjoys reading, running, walking his dogs, music videos, and strong coffee. Learn more about him at www.IvanJenson.com.


Jo:
Your poem touched me and now I must pay it forward--some small kindness. Thank you.
Posted 12/01/2018 05:00 PM
wordartdjc:
So sweet and genuine
Posted 12/01/2018 03:00 PM
barbsteff:
Much truth here.
Posted 12/01/2018 12:28 PM
Lori Levy:
Beautiful!
Posted 12/01/2018 12:09 PM
Janet Leahy:
Wonderful ending to this poem of expansive dreams. I like that the "you" in the last line is really each one of us. Thanks Ivan
Posted 12/01/2018 10:54 AM
michael escoubas:
You just did, Ivan! Thank you.
Posted 12/01/2018 09:23 AM
cork:
All writers will identify with this poem.
Posted 12/01/2018 09:21 AM
Larry Schug:
I agree, reaching one soul at a time may be the best we can do. The hope is that someone also reaches us.
Posted 12/01/2018 07:35 AM