The evening sky unseals its quiet fountain,
Hushing the silence to a drowsy rain;
It spreads a web of dimness o'er the plain
And round each meadow tree;
Makes this steep river-bank a dizzy mountain,
And this wide stream a sea.
Stealing from upper headlands of deep mist,
The dark tide bears its icebergs ocean bound,
White shapeless voyagers, by each other kissed,
With rustling, ghostly sound;
The lingering oak-leaves sigh, the birches shiver,
Watching the wrecks of summer far and near,
Where many a dew-drop, frozen on its bier,
Drifts down the dusky river.
I know thee not, thou giant elm, who towerest
With shadowy branches in the murky air;
And this familiar grove, once light and fair,
Frowns, an Enchanted Forest.
Couldst thou not choose some other night to moan,
O hollow-hooting owl?
There needs no spell from thy bewildered soul;
I'm ghost enough alone.


This poem is in the public domain.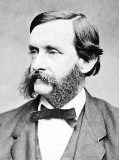 Thomas Wentworth Higginson (1823-1911) was an author, poet, editor, minister, and social reformer. Born in Massachusetts to a socially prominent family, he had four poems published by the time he was sixteen and went on to publish fiction, nonfiction, articles, essays, and more poetry. Thomas served as a colonel in the Civil War, commanding the first Union regiment of freed African American soldiers. A lifelong radical, much of his writing was in support of women's suffrage, the temperance movement, and the abolition of slavery. Higginson is better known for his association with Emily Dickinson. After receiving a letter from her in response to an article he wrote for the Atlantic Monthly, he became her friend and mentor for the remainder of her life and edited her poems for publication after her death.
michael escoubas:
Another great example of rhyme as well as interesting historical background about Higginson and Emily Dickinson.
Posted 12/04/2018 09:54 AM
Gilbert Allen:
The imaginative expansion of the familiar landscape begun in lines 5-6 is striking indeed.
Posted 12/04/2018 08:18 AM
Larry Schug:
Nice selection, Jayne. Gives me the chills.
Posted 12/04/2018 08:06 AM