Itís the Iris bulbs my mother excavates
when her house sells in early December,
salvaging the purple & yellow flags
she wants to see waving
on my lawn come June.
†
Itís every uneven form,
rough & robust & ugly
as any root you can nameó
rutabaga, radish, turnip, or beetó
ready to ripen in a pot of stew.
†
Itís each small space I hollow,
swinging wide warm-autumn weeds,
lowering life like a pail
where it stays till it feels
the tug, then rises.

†
From Full Worm Moon (The Poiema Poetry Series,† Cascade Books, 2018).
This poem first appeared in Windhover.
Used here with the authorís permission.
†
†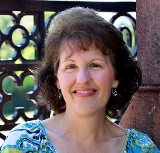 Julie L. Moore believes that writing poetry is as vital as seeking justice, embracing beauty, and emulating goodness. Author of Particular Scandals (2013), Slipping Out of Bloom (2010), and the chapbook Election Day (2006), Julie's most recent book of poems is Full Worm Moon, published in The Poiema Poetry Series by Cascade Books in 2018. Julie lives in Indiana, where she teaches and directs the Writing Center at Taylor University. Learn more about her at www.julielmoore.com.
Lori Levy:
Great images and details.
Posted 12/05/2018 07:27 PM
gailcomorat:
Beautiful...love that last stanza.
Posted 12/05/2018 07:22 PM
wordartdjc:
Very interesting 'take' on gardening. I especially enjoyed the idea fo digging up the mother's bulbs so that they could be enjoyed again elsewhere.
Posted 12/05/2018 04:38 PM
Jo:
A thoughtful poem, Julie. " Each small space I hollow..." especially struck me. Thank you.
Posted 12/05/2018 02:01 PM
wendy morton:
The pace, the images. Lovely.
Posted 12/05/2018 11:07 AM
njc:
Beautiful.....especially love the last 3 lines.
Posted 12/05/2018 10:59 AM
Jean Colonomos-1:
Love the nature, how human.
Posted 12/05/2018 09:06 AM
michael escoubas:
Nicely done, Julie. Appreciate the garden detail you include in your poem.
Posted 12/05/2018 08:08 AM
Larry Schug:
The mysterious "It" opens this poem for every readers personal interpretation.
Posted 12/05/2018 06:32 AM