Repeat after me:
"I'm retired. Okay? Retired!"
Stop making entrances
at the supermarket
or Harry's Shoe Repair.
Don't pause, gloved hand on knob,
and toss back graying hair.

Folks are worried their coupons
will expire. Or their heels
are too far gone. Who cares
your name once blinked in lights,
was stenciled on back of a chair?

Let Dr. Scholl transport you
from that pose of days gone by.
You learned so well to say hello;
with help from God and Maalox,
you can learn to say goodbye.


From Finding Your Best Angle (Daniel & Daniel Publishers, 2009).
Used here with the author's permission.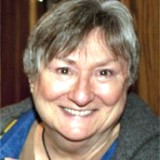 Mary Rose Betten (1936 - 2017) was a writer and award-winning character actress. Her plays were produced in New York, Hollywood and London; her essays were featured on NPR; she appeared in dozens of movies and TV shows, including The Waltons, Gunsmoke, Happy Days, Mork & Mindy, Highway to Heaven, and Dallas; and her poetry is as diverse and entertaining as her career was. Learn more about Mary Rose here.
barbsteff:
Funny! Thanks.
Posted 12/11/2018 12:17 PM
Jean Colonomos-1:
Hard to say goodby to such a full life.
Posted 12/11/2018 10:51 AM
Jancan:
I LOVE this. I'm smiling, but there are tears in my eyes! Janice
Posted 12/11/2018 10:28 AM
bbatcher:
Retired teachers can't stop teaching. Retired builders can't stop building. The habits we develop throughout our careers can't be turned off all that easily.
Posted 12/11/2018 08:50 AM
paradea:
"and toss back graying hair". Maybe in a Depends commercial. This poem made me laugh!! It's sad, though, but the "show" must go on!!
Posted 12/11/2018 08:15 AM
michael escoubas:
Laughing deep down Mary, at the sublime truth of all this!
Posted 12/11/2018 08:13 AM
plgoodman:
Love it Mary Rose. I see in my daily life that letting go is even harder than building up. It's an ego habit. But with age comes humility. Thanks.
Posted 12/11/2018 07:31 AM