Something has happened to my name.
It now appears on catalogues
for towels and hiking equipment,
dresses spun in India,
hand-colored prints of parrots and their eggs.
Fifty tulips are on their way
if I will open the door.
Dishrags from North Carolina
unstack themselves in the Smoky Mountains
and make a beeline for my sink.

I write a postcard to my cousin:
This is what it is like to live in America.
Individual tartlet pans congregate
in the kitchen, chiming my name.
Porcelain fruit boxes float above tables,
sterling silver ice cream cone holders
twirl upside-down on the catís dozing head.

For years I developed radar against malls.
So what is it that secretly applauds
this army of catalogues marching upon my house?
I could be in the bosom of poverty, still they arrive.
I could be dead, picked apart by vultures,
still they would tell me
what socks to wear in my climbing boots.

Stay true, catalogues, protect me
from the wasteland where whimsy and impulse
never camp.
Be my companion on this journey between dusts,
between vacancy and that smiling stare
that is citizen of every climate
but customer to nothing,
even air.


© by Naomi Shihab Nye.
Used here with the authorís permission.
†
†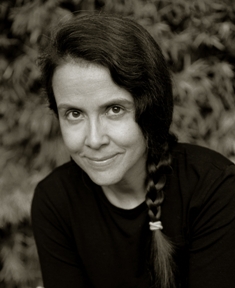 Naomi Shihab Nye was born to a Palestinian father and an American mother and lives in San Antonio, Texas. Author of numerous books of poems, the most recent is Voices in the Air: Poems for Listeners (Greenwillow, 2018). Naomi loves people who are 2 and 3 years old, and an organic vegetable/fruit delivery company called Imperfect Produce.

Lori Levy:
Glad to see one of your poems here. I am a great fan of your poetry.
Posted 12/14/2018 03:06 PM
barbsteff:
True! We still get catalogues occasionally for my sister-in-law, dead for 13 years, and who never lived at our address, but I was her personal representative. Since I've ordered a few things from catalogues I notice others appear like magic! Thanks for this.
Posted 12/14/2018 02:03 PM
wendy morton:
Oh, to be a customer of nothing.
Posted 12/14/2018 11:34 AM
Jean Colonomos-1:
You can move to the Amazon and still the unquenchable thirst for the mighty dollar will find you.
Posted 12/14/2018 09:52 AM
wordartdjc:
Luckily when one is 'old' and has not ordered from these merchants for years, I have had only one catalog sent to me. Hooray, but I know exactly what this poem portends from earlier years!
Posted 12/14/2018 08:42 AM
cork:
I receive millions of return address stickers but never write letters. Why are we treated this way?
Posted 12/14/2018 08:36 AM
KevinArnold:
What wonderful use of language. I love "I could be in the bosom of poverty, still they arrive."
Posted 12/14/2018 07:52 AM
Larry Schug:
Tis the punishment for vanquishing forests that we must drown in leaves of glossy rubbish. Karma at work as we become nameless,labeled only as "resident" or "addressee".
Posted 12/14/2018 07:18 AM