Temperatures are in the 80s and I am watching
the javelina drink out of the pond
when my granddaughter's face lights up my Iphone.
Snowflakes whiten her eyebrows
and marshmallows melted in hot chocolate
draw a moustache above her upper lip.
Auburn curls escape from under a stocking cap.
Shivering in the below zero temperatures,
she is leaving the Salt Lake City mall
where she just had a heart to heart
with Santa Claus to make sure he can find
Grandpa and me in the middle of the Arizona Desert
with no snow for the sled and reindeer.
Guess what? she asks but before I can answer
she says: Santa Claus is a pilot. He flies a helicopter
with a GPS so he didn't need my map. He will land
on your roof. I tell her that's great, but she doesn't
stop worrying. I forgot you have no chimney for him
to slide down, she groans. I tell her Santa Claus
can drop the presents on the roof and Grandpa
can climb the ladder and fetch them Christmas morning.
What if a rattler, Gila monster or scorpion bites Santa
or Grandpa? I assure her all the desert critters
sleep through the winter and wake up in the spring.
Confident Santa is safe and we will get gifts
from the North Pole, she rattles off her Christmas list
which she memorized before giving it to Santa.
When she gets to: a plane ticket to Arizona,
Santa calls the airlines and books a ticket.


© 2018 by Sharon Waller Knutson.
Used with the author's permission.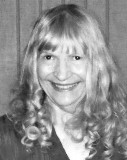 Sharon Waller Knutson lives in a house her husband, Albert, built out of clay from the land on a dirt road in the middle of the wildlife habitat and open range of the Arizona desert. A retired journalist, she writes poetry for readers who don't normally read poetry. In 2014, Sharon sold her chapbook, My Grandmother Smokes Chesterfields, to winter visitors from all over the world in a café where her husband played guitar and sang country music. Her customers told her they expected her to publish a new poetry book when they returned each year so, in 2015, she published Desert Directions, about her life in the desert. In 2016, she published They Affectionately Call Her a Dinosaur, poems about her customers and other seniors in her life who started new careers, businesses, and relationships after they retired. And in 2017, Sharon published I Did it Anyway, poems about how she broke the glass ceiling in the newspaper business in the '60s and '70s, when women were typically relegated to the society pages. This year, Albert retired from playing music so Sharon now operates her bookselling operation online.
Nancyscott:
Love this poem!
Posted 02/27/2019 05:14 PM
Nancyscott:
Love your poem
Posted 02/27/2019 05:14 PM
mirarchi:
What a sweet poem! :)
Posted 12/17/2018 02:04 PM
Lori Levy:
Love the portrayal of the little girl.
Posted 12/15/2018 05:43 PM
michael escoubas:
Like the whole poem, especially the concern about Grandpa or Santa being bitten by a Gila Monster or rattler! Real concerns come to think of it!!
Posted 12/15/2018 12:31 PM
Jean Colonomos-1:
A truly 21st century Santa story. And how thoughtful is this little girl.
Posted 12/15/2018 10:59 AM
Janet Leahy:
The questions and answers are fun and the ending is perfect. Thanks Sharon.
Posted 12/15/2018 07:58 AM
Larry Schug:
So that's how it works in the desert. Now I know!
Posted 12/15/2018 06:48 AM
Jean :D:
This is such a delightful poem, I don't know who I love more, Santa or the little granddaughter, what a sweetheart. Jean :D
Posted 12/15/2018 06:43 AM