I see the lake outlined
with Christmas lights.
from the top of the hill.
The white ice looks like
a round birthday cake,
the piles of snow
scalloped
along the edges,
whipped frosting.
We hurry to put on
our silver blades
in the rental shack.
An iron stove stands
in the center
keeping us toasty
until we skate outside
in low thirty-degrees.
My feet are numb;
I think itís frostbite.
We head back up
the hill for home
while tears freeze
on my cheeks.
I canít feel my toes.
Then suddenly Danny
appears out of darkness
and tags alongside us.
My face flushes.
I feel warm again.
Danny is walking us home
and, just maybe,
he likes me.


From Why I Miss New Jersey, Everhart Press 2013.
Used here with the authorís permission.
†
†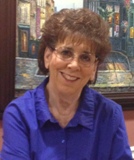 Barbara Eknoian lives in La Mirada, California. From her store of vivid memories, she writes a lot about her growing-up years. Originally from New Jersey, she was forever homesick until she joined Donna Hilbert's poetry workshop in Long Beach. Barbara was the first recipient of the Jane Buel Bradley Chapbook Award for her collection, Jerkumstances (Pearl Editions).
Marsfish:
I love the poem and the wistful,sweet ending!
Posted 12/18/2018 12:37 AM
Jancan:
Great poem! Janice
Posted 12/17/2018 05:33 PM
Lori Levy:
Great depiction of the lake, skating, and teenage feelings!
Posted 12/17/2018 02:40 PM
peninsulapoet:
Vintage Barbara--always a pleasure.
Posted 12/17/2018 12:56 PM
barbsteff:
Awww!
Posted 12/17/2018 12:53 PM
michael escoubas:
I hear the blades making fissures on the ice Barbara! Good poem nicely paced just as if we're skating together.
Posted 12/17/2018 10:51 AM
Sharon Waller Knutson:
This poem is a perfect Christmas gift. Nostalgia, coming of age and beautiful description all wrapped together. My favorite line: The white ice looks like a round birthday cake,the piles of snow scalloped long the edges, whipped frosting.
Posted 12/17/2018 08:11 AM
Larry Schug:
Brings back the hundreds of nights spent at the skating rink, hoping to hold hands and skate around the pond with one of the neighborhood girls even if only playing Crack the Whip.
Posted 12/17/2018 06:44 AM