The Moon's a snowball. See the drifts
Of white that cross the sphere.
The Moon's a snowball, melted down
A dozen times a year.

Yet rolled again in hot July
When all my days are done
And cool to greet the weary eye
After the scorching sun.

The moon's a piece of winter fair
Renewed the year around,
Behold it, deathless and unstained,
Above the grimy ground!

It rolls on high so brave and white
Where the clear air-rivers flow,
Proclaiming Christmas all the time
And the glory of the snow!


This poem is in the public domain.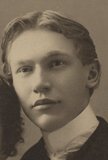 Nicholas Vachel Lindsay (1879 - 1931) was born in Springfield, Illinois to a close and devoutly religious family. His family hoped Vachel would become a doctor like his father, but he was drawn to art and poetry from an early age. Though he began self-publishing many years earlier, distributing his work for free and reading it wherever he could find an audience, his first poem wasn't "officially" published until he was 34. Vachel literally walked across the country for years, exchanging poems for food and lodging. His readings were bold, dramatic presentations, his poems typically focused on social issues, and the public loved him. Never very healthy, Vachel slowly succumbed to a manic-depressive disorder aggravated by debt and declining creativity; he killed himself by drinking cleaning solvent at the age of 52, leaving behind his wife and two young children.
Lori Levy:
Like the image of the moon as a snowball.
Posted 12/19/2018 01:05 PM
wordartdjc:
I have always loved his poems. In fact, was inspired by some of them early on to write for me. He was an unsung hero. I do find this poem soothing.
Posted 12/19/2018 09:35 AM
michael escoubas:
What a wonderful talent to end in the way described. Love the simplicity and rhyme-scheme of this poem.
Posted 12/19/2018 09:00 AM
Larry Schug:
Thanks for the Vachel Linsay biography,Jayne. I suppose that lifestyle today manifests on keyboards. We're travelers in the ether.
Posted 12/19/2018 06:29 AM