December darkness surprises
those grown used to sun,
bids us move nearer each other,
makes us lose sight of troubles
beyond our small circle of warmth.
December darkness tells
those on the street
to hurry home,
those at home
to draw closer still,
those who work too hard
to lay down their tools,
those who think too much
that now is the time for singing,
now the time to dance.


This poem first appeared in Halcyon Days (2016: issue 4).
Used here with the author's permission.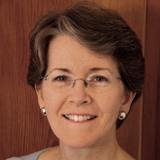 Pat Brisson is a former elementary school teacher, school librarian, and reference librarian in a public library. She has been writing picture books and easy-to-read chapter books for almost thirty years. Pat coordinates Project Storybook, a program at Edna Mahan Correctional Facility for Women in Clinton, New Jersey, which allows incarcerated mothers to select, record and mail books and tapes to their children. She received the N. J. Governor's Volunteer Award in Human Services for this wonderful project. Pat lives in Phillipsburg, New Jersey; learn more about her at www.patbrisson.com.
Lori Levy:
Love the contrast between the cold and dark of December and the "circle of warmth" and singing and dancing.
Posted 12/21/2018 12:36 AM
Nabby Dog:
This lovely poem offers a giant message with a small number of words. It is beautiful and wise. I believe it is an early Christmas gift for our hearts.
Posted 12/20/2018 12:01 PM
wordartdjc:
This says it all in the way of keeping Christmas and all it means in our consciousness and our hearts.
Posted 12/20/2018 10:18 AM
michael escoubas:
Like the simplicity and accessibility of this poem, Pat. Thank you.
Posted 12/20/2018 09:22 AM
cork:
I love singing in the darkness.
Posted 12/20/2018 08:32 AM
KevinArnold:
As we approach the winter solstice, what an elegant reminder for those "those at home / to draw closer still . . . Brava!
Posted 12/20/2018 08:24 AM