Midwinterís eve we long for light
our fires calling through the night
to lure the solstice sun to stay
and linger†††† longer†††† every day
to not conceal its strength from sight.

We coax it back†††† our pleas invite
its warmth.† Can wishing thus ignite
the sunís rebirth?† For this we pray
Midwinterís eve.

And yes†††† our hearts believe††††† in spite
of dark†††† this ball of flame will fight
will pierce through cracks to find its way
between the stones†††† this one fierce ray
just like our hopes†††† so brief†††† so bright
Midwinterís eve.


© by Melissa Huff.
Used with the authorís permission.
†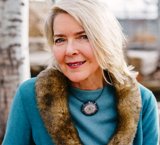 Melissa Huff returned to her love of writing after fifteen satisfying years making one-of-a-kind jewelry. An award-winning poet who has published in a number of journals, Melissa enjoys exploring both metered poetry and free verse, and absolutely loves to read poetry aloud. She currently serves as secretary of the Illinois State Poetry Society and is delighted to be a member of the Plumb Line Poets workshop group of Evanston, Illinois. Learn more about Melissa at www.melissahuff.com.
Sarah Russell:
Wonderful meter; wonderful message.
Posted 12/21/2018 12:44 PM
Jean Colonomos-1:
It was my daughter's birth that brought light to this day.
Posted 12/21/2018 09:42 AM
wordartdjc:
Oh, dear, I meant to say the Shortest day!!!
Posted 12/21/2018 09:27 AM
wordartdjc:
Very lovely...Today is the longest day of the year. Merry Christmas to all.
Posted 12/21/2018 09:26 AM
cork:
I love the spaces.
Posted 12/21/2018 08:35 AM
KevinArnold:
The darkest day of the year seems to require such an uncompromising faith.
Posted 12/21/2018 07:40 AM