If ever
there was a day
for long-time simmering,
today qualifies as that day.
Destined for lengthy tradition,
leftover holiday ham bones
pulled out & slowly
cooked throughout a chill
grey morning, when all life
becomes
far too quiet.
Clouds slow drip
like strong coffee which
streaks our empty front roadway
with goodbye tears, after
company departed;
returned to homes, places
& their own routines.
Here, what remains hangs
slow as memories which swirl
in kitchen steam.
Wafted story scents
like smoke houses in autumn,
Old Ozark homesteads,
tales which now
smell like dried thyme &
bay leaves bubble
within mingled concentrates,
bone rich broth
foundation; onions
& garlic flavor each
brown drop; cooked down
releasing long sagas
into a nourished essence
meant to savor within time.
Timeless realities†
can only be revealed
on cold winter mornings,
sometime after Christmas,
when dark skies hang low as
family trees & the seasonís gift
of speckled pinto beans
sit swollen, soak in an old
enameled stockpot once used
on my grandfatherís
farm.


© by Elizabeth Perdomo.
Used here with the authorís permission.
†
†
†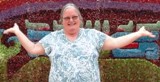 Elizabeth Perdomo has lived and written in the Rio Grande Valley of South Texas for the past sixteen years, moving to the region from the Rio Grande Valley of New Mexico. Born in Kansas and raised both there and in Colorado, Elizabeth also lived in the southeastern U.S. for a number of years, where her three daughters were born and homeschooled. Elizabeth has been writing poetry since her teen years, on topics that include local place and culture, cooking, gardening, ecology and nature, traditions, spirituality, and more. The author of One Turn of Seasons, featuring poetry about people and places in East Tennessee, Elizabeth's work is also featured in the anthology, Kansas Time + Place.
barbsteff:
The tear-streaked empty roadway, as the company has gone, got to me. I felt that as a kid on a farm, aftr the company had gone. Well done.
Posted 12/30/2018 11:09 PM
wordartdjc:
Here is a great deal of reminiscence sweetly packed into flowing verse. Good job!
Posted 12/29/2018 07:02 PM
CamilleBalla:
This poem expands so poetically on a slow day for me, just simmering yesterday's visit with family and adding to it all this year's holiday events while stirring oat bran with blueberries, trying to slowly get back to a more healthy diet.
Posted 12/29/2018 02:05 PM
cork:
An interesting use of ampersands.
Posted 12/29/2018 10:54 AM
Charly:
Universal loves for home and memories. Poem captures it all. Yum!
Posted 12/29/2018 08:58 AM
michael escoubas:
Luscious use of words and poetic diction, Elizabeth. Poetry, in my opinion, should bring pleasure! "Simmering" certainly does. Thank you for beginning my day with a good taste in my mouth!
Posted 12/29/2018 08:44 AM
bersone:
Beautiful poem
Posted 12/29/2018 08:28 AM
vscholtz:
The essence of the season. The essence of poetic writing.
Posted 12/29/2018 08:13 AM
jeeger:
This was absolutely lovely. I LOVE the way you weaved it all together!
Posted 12/29/2018 08:01 AM
Larry Schug:
Jus plain beautiful, so much conveyed so simply. I can smell and taste the soup. This poem is timeless.
Posted 12/29/2018 06:40 AM