Our simple acts may be the warp and weft
Of the substance of our lives, what is left

Beyond the gifts and wills, the trusts and estates
After our belles lettres or plein air landscapes†

What if our day to day actions, in the long slog
Of life are our lasting legacy, our true song?


© by Kevin Arnold.
Used with the authorís permission.
†
†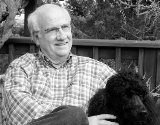 Kevin Arnold holds an MFA in Creative Writing from San Jose State University. Based on a story extracted from one of his novels, the San Francisco/Peninsula California Writer's Club named him Writer of the Year for 2014-2015. Kevin enjoys skiing and playing competitive tennis and duplicate bridge. He likes Bailey's, Johnny Cash, Kelsea Ballerini, Willie Nelson, and has a soft spot for Judy Collins. Learn more about Kevin at
www.kevinarnoldauthor.com
.
Mary Lou Taylor:
Beautiful!
Posted 12/31/2018 02:21 PM
Janet Leahy:
I will make a copy of this poem and put it where i can see it each day as a reminder of what is important. Thanks Kevin
Posted 12/31/2018 11:45 AM
wordartdjc:
I so agree, What remains at the end, but the good we have tried to do for others?
Posted 12/31/2018 08:50 AM
cork:
My life has become a tapestry.
Posted 12/31/2018 08:45 AM
Lori Levy:
Beautiful idea!
Posted 12/31/2018 07:33 AM
Larry Schug:
I think it's a good idea to live in the way this poem expresses so well with so few words.
Posted 12/31/2018 07:23 AM