I go forth now, but not to fill my lap
With violets and white sorrel of the wood;
This is a winter noon; and I may hap
Upon a few dry sticks, and fire is good.
A quickening shrewdness edges the fore wind;
Some things stand clear in this dismantled hour
Which deep-leaved June had hidden; earth is kind,
The heaven is wide, and fire shall be my flower.


This poem is in the public domain.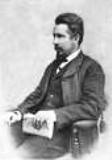 Edward Dowden (1843 - 1913) was an Irish poet and literary critic who began writing early in life and had a particular interest in Shakespeare. A university professor who believed firmly that literature should be a routine part of life, Edward was a friend and staunch fan of American contemporary Walt Whitman, but maintained an ongoing clash with Irish contemporary William Butler Yeats over their opposing political viewpoints.
CamilleBalla:
Something good to be found in all seasons if we look. Thanks, Jayne for bringing forth this poem which I may never had read otherwise.
Posted 01/12/2019 04:53 PM
Arlene Gay Levine:
Compact brilliance...and yes, I agree with Gilbert's comment as well.
Posted 01/12/2019 11:39 AM
Gilbert Allen:
That last line passes what Seamus Heaney called "the jealousy test"--I wish I'd written it!
Posted 01/12/2019 09:11 AM
cork:
It is -21° here and I watch the fire.
Posted 01/12/2019 08:45 AM
Charly:
This poem is truly contemporary, such a beauty.
Posted 01/12/2019 08:37 AM
wordartdjc:
I do 'go' with his idea that poetry should be in everyone's daily life. Fine poem
Posted 01/12/2019 08:12 AM
plgoodman:
Yes! Wonderful! A comfort on this uncomfortably freezing day!
Posted 01/12/2019 07:51 AM