Sit here.
I will bear you
and whatever burdens
you carry
while you breathe
the sacred air
of my forest.

Rest here.
I am old and worn
but I will hold
your memories
and dreams
in this place
trouble does not abide.

Tarry here.
There is no need
to hurry.
I was here
before today
and will remain
when you have gone.

Heal here.
And when you are ready
gather up
what is important.
Leave the rest
for the breeze to scatter,
the rain to wash away.


© by Sara Sarna.
Used with the authorís permission.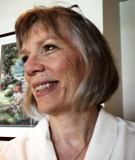 Sara Sarna grew up in a military family and says she was in her early thirties "before feeling I had roots." She has now lived in Wisconsin for a quarter of a century. Sara has pursued various careers in the course of her life, including being a teacher, a bank manager, and a healthcare employee, but her favorite endeavors—"by far," she admits—have been actor and poet. "They are the things that feed my soul."
vscholtz:
I think this poem could be used as a meditation - and I plan to do just that. Thanks, Sara
Posted 01/15/2019 09:40 AM
wordartdjc:
My Sara, This is a lovely poem. I too feel so free to write when I sit away from my home and 'commune' with nature. Thank you for sharing.
Posted 01/14/2019 01:52 PM
ed werstein:
Nice, Sara!
Posted 01/14/2019 08:09 AM
DavidTookey:
Clear and calm. Well done.
Posted 01/13/2019 10:26 PM
Jo:
A beautiful poem, Sara. So glad it is still posted here.
Posted 01/13/2019 09:10 PM
paula:
A lovely poem, Sara!
Posted 01/13/2019 07:14 PM
bersone:
She turned a bench on a path into a poem we can take a break on any time we want!
Posted 01/13/2019 10:34 AM
cork:
Oh, the healing power of nature!
Posted 01/13/2019 08:50 AM
KevinArnold:
Fine poem. It's interesting how many accomplished poets Jayne has found in Wisconsin. Although I'm now a Californian, I'm a UW-Madison grad and feel I'm from there too.
Posted 01/13/2019 08:06 AM
Jean :D:
If I had gotten around to making that list of 10 favorite poems, this would have been at the top! Very inciteful.
Posted 01/13/2019 07:26 AM