I've never been to London,
I've never been to Rome;
But on my Fifty Acres
I travel here at home.

The hill that looks upon me
Right here where I was born
Shall be my mighty Jungfrau,
My Alp, my Matterhorn.

A little land of Egypt
My meadow plot shall be,
With pyramids of hay stacks
Along its sheltered lee.

My hundred yards of brooklet
Shall fancy's faith beguile,
And be my Rhine, my Avon,
My Amazon, my Nile.

My humble bed of roses,
My honeysuckle hedge,
Will do for all the gardens
At all the far world's edge.

In June I find the Tropics
Camped all about the place;
Then white December shows me
The Arctic's frozen face.

My wood-lot grows an Arden,
My pond a Caspian Sea;
And so my Fifty Acres
Is all the world to me.

Here on my Fifty Acres
I safe at home remain,
And have my own Bermuda,
My Sicily, my Spain.

Used with permission from Wilkes Community College.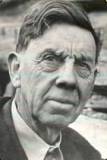 James Larkin Pearson (1879 - 1981) was born to poor, uneducated parents and had limited opportunities to experience formal schooling, but he wanted to be a poet from his earliest days. After stints as a farmer and a carpenter, at 21, he became a typesetter and, ultimately, began writing for newspapers--even starting his own at one point. He also owned a successful printing business. By the 1930s, James was well-established as a prominent literary figure in his home state and, in 1953, was appointed by Governor William B. Umstead to a life term as North Carolina's second Poet Laureate. He lived in Wilkes County from his birth in 1879 until his death at age 101. For most of those years, James made his home on his "Fifty Acres" in Boomer, NC.
wordartdjc:
What a deep-felt and inspiring poem. And the reading of this poet's background, what a wonderful fulfillment.
Posted 01/18/2019 09:06 AM
cork:
This poem makes one appreciate the landscape around us.
Posted 01/18/2019 08:44 AM
Larry Schug:
Formal education does not always equate with knowledge. What an interesting human. Thank you Jayne.
Posted 01/18/2019 08:10 AM
Jean :D:
Wow, if this doesn't make you be aware of, and appreciate all the God-given free things of life! Wonderful poem.
Posted 01/18/2019 07:05 AM