Every winter we are reminded
All gaps and cracks can be filled up
All dirtiness and ugliness can be buried deep, and
All viewing difference can be harmonized into one single color

Muted in white, the land unfolds itself to show us how
To make a new start in spring


© by Changming Yuan.
Used with the author's permission.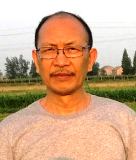 Changming Yuan grew up in a small, rural village in China, started to learn the English alphabet at age 19, and published monographs on translation before leaving his native country. Now, with a Canadian PhD in English, he currently edits Poetry Pacific with his son, Allen Yuan. Changming's credits include ten Pushcart nominations, the 2018 Naji Naaman's Literary (Honour) Prize, Best of the Best Canadian Poetry, BestNewPoemsOnline, Threepenny Review, and 1,459 others across 42 countries. Changming lives in Vancouver.
KevinArnold:
Ever since the solstice, we move away from winter. Fine poem.
Posted 01/17/2019 11:38 AM
Lori Levy:
Love the ideas expressed in this poem.
Posted 01/17/2019 11:38 AM
wordartdjc:
What a lovely thought. Yes, Springtime will bring new life to all of us.
Posted 01/17/2019 10:20 AM
cork:
We expect the gaps and cracks to be filled up today in Pinedale, Wyoming.
Posted 01/17/2019 08:45 AM
Janet Leahy:
Again nature and the poet bring us beauty and hope. Thank you Changming.
Posted 01/17/2019 08:26 AM