Nokomis Beach Drum Circle, Florida

Leaving troubled times behind
people by the hundreds
gather on the beach
black white yellow
young
old
dreadlocks
crew cuts
peasant skirts
capris
as incense wafts through the air
Some watch from chairs
the drummers creating patterns
others dance to
as the sun softly slips
beneath the sea
spreading criss-crossing streaks
of purple-orange-pink

In this circle of sand
around a mound
of palm leaves
flowers and lights
the thrumming goes on and on
as fully immersed
in the moment
women blissfully smile
while hitching their hips
from side to slinky side
waving their arms
and stroking the air
with graceful fingers
Tiny cymbals clink
Rainbow ribbons flow
Sticks are knocked
against blocks of wood
Bells jingle-jangle
Flashing hula hoops
and twirling batons
spin colored lights into a blur
as the hum
of a communal heartbeat
rises and falls
and all differences dissolve
into hope


© by Joan Kantor.
Used here with the author's permission.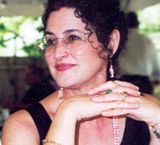 Joan Kantor lives with her husband in Collinsville, Connecticut. A college counselor and learning disabilities specialist for many years, Joan also has training in education and marriage and family therapy. Active in a number of poetry outreach efforts, she is a member of the International Academy for Poetry Therapy and collaborates with both visual artists and musicians in Stringing Words Together, an interactive program of poetry and violin music. Her most recent chapbook is Too Close For Comfort (Aldrich Press). Learn more about Joan at www.joankantorpoetry.com.
Jo:
What a wonderful poem for this moment in time. Would love to experience this ritual. Just the hope of seeing all these creatives and the drums beating the rhythm of earth.
Posted 01/16/2019 03:02 PM
wordartdjc:
Lovely poem. I can just feel the movement in its lines. This is a new ritual for me that I had no knowledge of. So soothing.
Posted 01/16/2019 02:41 PM
Michael:
In a cynical culture where abuses to the soul feel like fingernails on a chalkboard, Joan's poem is a welcome salve! Thank you Joan, thank you Jayne.
Posted 01/16/2019 08:46 AM
cork:
I moved with the rhythms of the drums.
Posted 01/16/2019 08:37 AM
Larry Schug:
Hmmm...no punctuation,yet capitalization. Interesting. Thanks for taking me somewhere tropical for a moment.
Posted 01/16/2019 08:03 AM