Melons have seeds
Phones have cords
Nickels have buffalo heads
Pizza is a Chef Boyardee box

Dad wears a white shirt
Mom wears a pleated skirt
I wear a midriff and pedal pushers
My Betsy McCall doll
goes everywhere in her wedding gown

A 10 cent allowance buys a comic book
or jawbreakers, wax lips,
licorice whips, sputnik gum
a rabbitís foot for luck

The baby has pinworms
My brother gives me measles
I give him mumps
get tonsillitis like my sister

We play statue maker
kick the can
Red rover, red rover, let Joanie come over
Ollie ollie oxen free

In a living color world
with black and white TV
I ride my hand-me-down bike
push back on the pedal
drag the other foot, stop time


This poem first appeared in Red Cedar.
Used here with the authorís permission.
†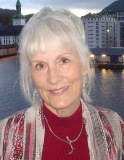 Joan Wiese Johannes is retired from a rewarding and challenging career as an English teacher. The author of several poetry collections, she also composes music for Native American-style flute and includes it with her poetry readings. Joan believes that Thornton Wilder was right when he wrote that "only poets and saints truly appreciate life while they are living it." Hardly a saint, Joan appreciates the life she shares with her poet/artist husband, Jeffrey, in Port Edwards, Wisconsin. Learn more about her at http://bookthatpoet.com/poets/johannes.html.
wordartdjc:
Yes, thanks for the memories. Some do apply to me, however never had a bike. My family could not afford that luxury. Two younger sisters to grow up also. However, the boyfriend with a Ford coupe came along soon after and that solved transportation.
Posted 01/15/2019 01:10 PM
pwax:
Memories, memories... Thanks,Joan.
Posted 01/15/2019 11:56 AM
CamilleBalla:
Playing statue maker was fun. I haven?t thought of that probably since then! I?d like to watch some kids play that game if that is even possible. Thanks for the push back, stopping time for a moment. Good poem!
Posted 01/15/2019 10:08 AM
cork:
I will be 83 tomorrow and have those memories.
Posted 01/15/2019 08:59 AM
Jancan:
Wow! How sweetly this fine poem takes me back . . . ! Jancan
Posted 01/15/2019 08:40 AM
Charly:
Takes me way back. Captures in a list poem an entire long gone world. Good job!
Posted 01/15/2019 07:18 AM