I wonder what heaven will be like.
Will it be all strawberry fields forever
or hello yellow brick road?
Will it feel like a roller coaster at the fair
or a canoe ride down a lazy creek?
Iím sure people expect different things.
Some will want it to smell like chocolate chip cookies,
Others will prefer the scent of a distant campfire.
My choice is cookies.
I wonder if time will feel the same?
Will a two hour movie last fourteen years
or a three minute egg take ten seconds?
Is the temperature going to be just right
Or too hot, too cold, too drafty, too stifling?
Might a person be able to get a stiff drink
or a good strong cup of coffee
with endless refills and no caffeine shakes?
Is heaven going to be like the library
or more like Grand Central Station?
Will there be a dress code
Or come as you are?
I wonder.

© by Jim Landwehr.
Used with the authorís permission.
†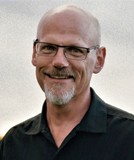 Jim Landwehr is a twenty-first century cartographer and Renaissance man. In between his day job (which keeps the lights on and the creditors at bay), he walks his dog, takes an occasional bike ride, and scribbles out books and poetry. Next to his wife and his two above average children, Jim's five books—DirtyShirt, The Portland House, Written Life, Reciting From Memory and On a Road—are his biggest pride and joys. He's working towards a Pulitzer but, at the moment, his writing provides little more than personal satisfaction and a bit of beer money. Learn more about Jim at http://jimlandwehr.com and www.writerjimlandwehr.com.
wordartdjc:
Quirky and inventive. What a subject! I just wish to feel the arms of those gone before me.
Posted 01/21/2019 08:48 AM
SaraS:
Good musings for a Sunday - nice, Jim!
Posted 01/20/2019 03:16 PM
cork:
Your poem makes me realize that I am in heaven now.
Posted 01/20/2019 08:43 AM
Larry Schug:
I wonder, too.
Posted 01/20/2019 06:51 AM