I watch the great clear twilight
Veiling the ice-bowed trees;
Their branches tinkle faintly
With crystal melodies.
The larches bend their silver
Over the hush of snow;
One star is lighted in the west,
Two in the zenith glow.
For a moment I have forgotten
Wars and women who mourn,
I think of the mother who bore me
And thank her that I was born.


This poem is in the public domain.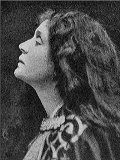 Sara Teasdale (1884 - 1933) was a Missouri-born poet afflicted with poor health from birth. She loved one man but married another, divorced, lost her best friend to suicide, and eventually committed suicide herself. Ironically, a majority of her poems are about love and beauty, and she won the first Pulitzer Prize for poetry in 1918. There are some similarities to be drawn between Sara and Emily Dickinson; both were reclusive, both wrote intensely personal poetry that frequently focused on nature, both knew unrequited love.
Mary Lou Taylor:
A good read, so smoothly written.
Posted 01/28/2019 05:09 PM
Jo:
Beautiful poem. Thank you, Jayne
Posted 01/28/2019 03:43 PM
paradea:
Beautiful
Posted 01/28/2019 10:45 AM