"The Spread Eagle!" he cries
and shows us, arms and legs wide, carving
a perfect circle on the ice.

We copy, stiff in new
Christmas skates, white —
always white, our girl skates —
with silver blades and teeth
that grab. We tumble,
then find our feet.

Arabesque, the twirl,
the race to the far end of the pond, the breathless
drop to ice, sliding to a stop
on blue nylon-padded knees.

I flop onto my back.
A snowflake lands exactly
between my eyes.

Now on my belly.
Mittened fingers rub a clean place — nose
melts a bare spot. Cupped hands
around my eyes make a shadow tunnel.

Under that glazing:
a liquid world where surely
a fish will swim close enough
to peer at me from
her side of our window.


© by Diane Lee Moomey.
Used here with the author's permission.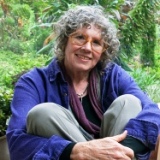 Diane Lee Moomey grew up near the Great Lakes and, since then, has lived and wandered around the U.S. and Canada. These days, she dips her gardener's hands in California dirt, and reads and listens regularly at poetry venues in the San Francisco Bay Area. Diane is the author of multiple books, has published in journals, and has even won a prize or two. Besides poetry, she enjoys long walks beside the ocean, reading mysteries, and painting in watercolors. Learn more about Diane at https://www.pw.org/content/diane_moomey and www.dianeleemoomeyart.com.
Lori Levy:
Love the picture this poem creates.
Posted 01/29/2019 05:50 PM
wordartdjc:
Oh, dear, this brings me back to my very embarrassing tries at ice skating on the frozen corner lot in 'old' Chicago. I never mastered the joys of my friends and yet on the roller skating rink, I truly excelled. Great poem bringing back sweet memories, even though somewhat embarrassing.
Posted 01/29/2019 03:02 PM
Mary Lou Taylor:
Nicely done, Diane. Raised near Lake Michigan, I still never learned to skate well. You did.
Posted 01/29/2019 02:37 PM
barbsteff:
From frigid Wisconsin, as the polar vortex engulfs us, brava! What fun - the descriptions and the insight. There's a joke about a guy drilling a hole for ice fishing, and a voice from above keeps telling him there are no fish below. Finally the voice tells the fisherman that he is the maintenance man and this is a skating rink.
Posted 01/29/2019 12:58 PM
joecot:
A gentle jolt like a snowflake exactly between the eyes.
Posted 01/29/2019 11:49 AM
cork:
I love the detail!
Posted 01/29/2019 08:38 AM
michael escoubas:
It's 20 below here in Illinois. Perfect poem for this cold snap we're in just now. Diane's Canadian and mid-west background is a perfect fit! Up there people go out and frolic in winter, with as much gusto as in summer. Wonderful post!
Posted 01/29/2019 08:06 AM
Larry Schug:
You wouldn't find this poem at an indoor, artificial ice rink. The last stanza is a poem itself. If you live in Minnesota don't do any outdoor skating this week--you'll freeze your nose and your toes.
Posted 01/29/2019 07:25 AM