Windows embedded in concrete
frame leaves fluttering
on a tree outside

wind whispers through
leaves, brown and frail—
soft paper brushing silk.

What kind of tree holds
its leaves with
such perverse tenacity?

The dead of winter now,
twenty degrees and snowfall
has built cliffed walkways .

Icy clots craft
an obstacle course
for pedestrians.

I slip, teeter and stare
at the tree,
its perseverance –

its defiance
among a forest
of skyscrapers.



This poem first appeared in Avocet (Winter 2011).
Used here with the author's permission.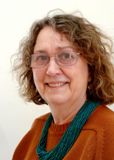 Marcia J. Pradzinski is a Chicago native who now lives in Skokie,Illinois. Having taught English in the International Teaching Assistants program in Chicago for many years, Marcia has always loved words in their many contexts: in print, in songs, and in foreign languages such as Polish and Ukrainian, which she heard spoken while growing up.The author of Left Behind, published by Finishing Line Press in 2015, Marcia's poems have been featured in anthologies and many print and online journals. She gives credit to her poet colleagues for helping her stay productive and accountable.
Lori Levy:
Feel cold just reading this poem! Great job.
Posted 01/30/2019 05:42 PM
wordartdjc:
Great, Marcia. As a woman growing up in the Windy City of Chicago, I do know exactly your feelings about its weather. NC is now my home as those winters were just too much for me.
Posted 01/30/2019 11:06 AM
MLove:
Very appropriate for this day!
Posted 01/30/2019 10:50 AM
cork:
Wszystkiego najlepszego It is -29? now here in Pinedale, Wyoming, and I heard a rafter crack.
Posted 01/30/2019 08:43 AM
Larry Schug:
Red oak trees hold onto many of their leaves through winter, a fitting subject for a poem, filled with metaphor. Good work.
Posted 01/30/2019 06:51 AM