Where is your warmth?
You rise late and retire early.
As you slide across the sky
Just above the chimney tops,
Your rays slant sideways
And brightly into our eyes,
But you donít melt snow,
Warm fingers and toes,
Or chase the frost away.
Oh, Winter Sun,
We miss the warmth
You share in summer
As you climb on high
Traversing the sky.


© by Bob Kimberly.
Used here with the authorís permission.
†
†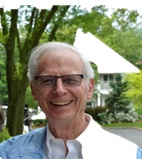 Bob Kimberly started writing poetry fifteen years ago after he retired and sold his horse farm, where he and his wife, Nancy, bred and boarded riding horses for nearly 30 years. To keep busy, he joined a creating writing class for senior adults, and discovered there that he enjoyed writing poetry. Bob has published a number of chapbooks, mostly for his family and close friends, and has also had a few poems published in newsletters and calendars. He lives in Bellevue, Washington.
KevinArnold:
Fun and exceedingly timely, and yes, Michael, with charming humility.
Posted 01/31/2019 10:59 AM
njc:
Well, I fed the birds and went for a walk this morning at -32--beautiful! There's nothing like a crisp sunny winter morning in the northwoods.
Posted 01/31/2019 10:01 AM
michael escoubas:
Wonderful poem in its simplicity and use of interesting verbs. Bob makes his point with charming humility.
Posted 01/31/2019 09:43 AM
Larry Schug:
Yesterday the high temp. here was -20. (It's -35.7 this morning) The sun was shining so brightly in a blue sky and we were all asking the question you pose in this little gem.
Posted 01/31/2019 07:10 AM