just pledged her troth
to a man bred in Sun Prairie
raised on marking holidays
with coordinated hot dishes
and family dinners around
one table every night
†
so like an eager little crocus
she balances on high heels
in a Norman Rockwell painting
to sign a marriage license
and say the words my husband
every chance she gets


© by Shoshauna Shy.
Used with the authorís permission.
†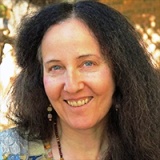 Shoshauna Shy began writing at the age of eight on a manual Olivetti. The author of five books, she reads short stories to trigger ideas for poetry. A cat care business affords her plenty of writing time in other peoples' quiet houses. Learn more about Shoshauna here.
Lori Levy:
Great!
Posted 02/03/2019 04:14 PM
wordartdjc:
Hh, yes, I do remember that Rockwell painting. She has sounded a cry here for the meaning of love which is unusual in a very 'good' way.
Posted 02/03/2019 04:03 PM
Sarah Russell:
Oh, the spirit and love in this poem are contagious and have me smiling despite the cold. Going now to read more of your work.
Posted 02/03/2019 10:43 AM
michael escoubas:
I appreciate the tender life-insight this poem affords. Thank you, Shoshauna!
Posted 02/03/2019 08:15 AM
Richard Greene:
"So like an eager little crocus" -- marvelous line! Reminds me of a stanza from a Tony Hoagland poem, "Beauty: It was spring. Season when the young buttercups and daisies climb up on the mulched bodies of their forebears to wave their flags in the parade. And "in a Norman Rockwell painting". That's splendid too.
Posted 02/03/2019 07:29 AM
Larry Schug:
"eager little crocus"--nice! I am impressed with what you do for poetry in your community as I learned from your website.
Posted 02/03/2019 06:40 AM