I did not see them on The Ed Sullivan Show.
I did not watch them perform "She Loves You" or "All My Loving".
The family was not gathered around the TV,
But was gathering at my grandparents' house
Where my grandmother had just quietly died
While napping next to me on the couch.

I don't know if we'd have been watching that night,
But all afternoon her radio had been abuzz
With news of the arrival of
Something called "the Beatles."
So, with no older siblings to school me,
I asked, "Grandma, what are the Beatles?"

My last and lasting memory of her is
Her answer: "They're just boys
The girls all like–
So they throw candy at them," 
Her explanation using
The currency of confection
An expression of affection she knew
My four-year-old mind could comprehend.



This poem first appeared in Tiferet.
Used here with the author's permission.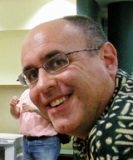 Tony Gruenewald lives in New Jersey, where his resumé includes running a recording studio, working in a public radio station archives, writing and producing radio newscasts, and stints in advertising, marketing, and public relations. His collection, The Secret History of New Jersey, was published by Northwind in 2009, and his poems have been seen in numerous journals and publications. Learn more about him at www.tonygruenewald.com.
Jo:
The Beatles. i remember watching them on Ed Sullivan. Seems like a 100 years ago now. A beautiful relationship with your grandmother. I enjoyed reading about it.
Posted 02/09/2019 10:13 PM
Lori Levy:
Love the way this memory is portrayed.
Posted 02/09/2019 12:53 PM
paradea:
This is a precious poem. Love it.
Posted 02/09/2019 09:27 AM
wordartdjc:
Interesting take on a childhood memory. I was not a fan of the Beatles, yet I do understand how this memory at such a traumatic time might live forever in the boy's mind.
Posted 02/09/2019 08:23 AM
michael escoubas:
I, too, remember that day of arrival and the Ed Sullivan show. Wow! wonderful to go back for a visit, but wouldn't want to stay. Great post, Jayne!
Posted 02/09/2019 08:09 AM
Larry Schug:
I love poems about that evening way back when. It changed the world as we knew it. But the real heart of this poem is the very nicely portrayed relationship of grandson and grandmother. Good work, Tony.
Posted 02/09/2019 07:12 AM