In every other way,
though it's cliché,
he's the perfect husband.
I really shouldn't complain,
especially since I'm so high maintenance.

He deserves a reprieve.

It innocently began seven years ago.
I knew all about it.
I forgave,
and decided open marriage has its place.
But it's getting old.
I'm envious of the time they spend together.
He's only mine during bad weather.
I get tossed the scraps of time.

All balance is off.

Hoping to maintain the status quo,
he refuses to see
he's chosen
the golf course
over me.


From Shadow Sounds (Antrim House 2010),
Used here with the author's permission.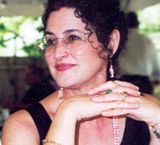 Joan Kantor lives with her husband in Collinsville, Connecticut. A college counselor and learning disabilities specialist for many years, Joan also has training in education and marriage and family therapy. Active in a number of poetry outreach efforts, she is a member of the International Academy for Poetry Therapy and collaborates with both visual artists and musicians in Stringing Words Together, an interactive program of poetry and violin music. Her most recent chapbook is Too Close For Comfort (Aldrich Press). Learn more about Joan at www.joankantorpoetry.com.
Jo:
I enjoyed your poem Joan. Good surprise at the end.
Posted 02/11/2019 05:11 PM
Lori Levy:
Like the humor in this poem!
Posted 02/11/2019 02:17 PM
wordartdjc:
Ah, yes the surprise ending and deftly done, I might say Good work, Joan.
Posted 02/11/2019 09:29 AM