Half a white onion, finely diced,
a dozen mushrooms washed and chopped,
a bell pepper seeded and sliced,
a bunch of chard, cleaned,
then added to the mix. The smell--
not quite right.
Pepper, salt, parsley, a pinch
of herbes de provence.
A round of wholegrain bread, butter.
The salad tossed and dressed with vinaigrette.
Two heirloom tomatoes,
an avocado, soft and ripe.

Placemats set,
dishes out,
silverware laid,
Merlot poured,
I wait for Ron.


© by Ruth Gooley.
Used with the author's permission.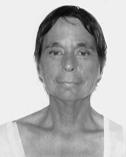 Ruth Gooley has published a variety of poems in Your Daily Poem, Ibbetson Street Review, vox poetica, and NatureWriting, among others. She also published a dissertation, "The Image of the Kiss in French Renaissance Poetry." Ruth makes her home in a cabin in the Santa Monica mountains, where she lives in harmony with the abundance of nature there.
wordartdjc:
Such an interesting poem in a completely new style...It gives an interesting take on loving!
Posted 02/13/2019 11:32 AM
Lori Levy:
Very appealing!
Posted 02/12/2019 03:39 PM
cork:
The way to a man's heart....
Posted 02/12/2019 08:35 AM
michael escoubas:
I'll be right over!
Posted 02/12/2019 08:00 AM
Larry Schug:
Lucky Ron! I can taste that salad.
Posted 02/12/2019 08:00 AM