A raven sails
past my eyes,

white paper wad
clasped in shiny beak.

And in that blur
of white and black

appeared for a moment
as a tiny eagle.

How wondrous
to imagine a world

with tiny eagles
all around.

Too soon,
however, all things

lose their shine.
And tiny eagles

would soon be
no more wondrous

than a copper-headed pigeon
pecking to fill

its steel-grey belly.
Which reminds me,

how wondrous
is a copper-headed pigeon

fluttering its iridescent belly up
into that shimmering, steel-grey sky.


© by Ryan Warren.
Used with the author's permission.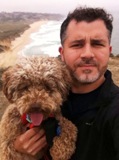 Ryan Warren lives with his family in the Pacific Northwestern U.S. where they hike, watch movies, and play with their dog, Ziggy. Ryan is a 2017 Forward Prize for Poetry nominee, a 2016 Pushcart and Best of the Net nominee, and his poetry has appeared in numerous journals and the anthology, Carry the Light. Learn more about him at https://ryanwarrenpoetry.com.
Lori Levy:
Like the images in this poem. Picturesque!
Posted 02/15/2019 03:07 PM
barbsteff:
Wonderful word picture. I know ravens, but not copper-headed pigeons. Write on!
Posted 02/15/2019 01:53 PM
peninsulapoet:
Wonderful to have this poem the first poem of the day.Hi Ryan, Donna Hilbert here.
Posted 02/15/2019 11:15 AM
wordartdjc:
Ryan truly loves all things in nature. This is very evident in his winged poem
Posted 02/15/2019 09:27 AM
michael escoubas:
So observant of the world, Ryan--hallmark of a good poet and of the work produced. Thank you.
Posted 02/15/2019 09:20 AM
cork:
An unkindness of ravens gives beauty to snow.
Posted 02/15/2019 08:46 AM