February freeze
in the woods
all is still, motionless
black and white.
 
Then a flash
a splash of crimson
on gray bark,
woodpecker alights
his drumming echoes clear
through the cold-
a valentine to cheer us up 'til spring.


This poem first appeared in Trailblazer Magazine.
Used here with the author's permission.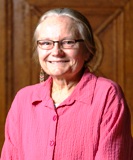 Jan Chronister is the current president of the Wisconsin Fellowship of Poets. Author of two chapbooks, her first full-length collection has just been released by Clover Valley Press. Jan lives in the woods near Maple, Wisconsin with her husband; learn more about her at www.janchronisterpoetry.wordpress.com.
Jo:
I enjoyed your poem, Jan. and that last line is terrific ? a valentine to cheer us up ?till spring. Thank you.
Posted 02/16/2019 09:21 PM
barbsteff:
Congrats on this "cheer us up" mid-February poem Jan. Love the flash and splash, the 3-color picture.
Posted 02/16/2019 03:05 PM
Lori Levy:
Love the image of the woodpecker in the "February freeze."
Posted 02/16/2019 02:48 PM
michael escoubas:
Staccato sounds of poetry. Do I hear that woodpecker? Nicely done, Jan.
Posted 02/16/2019 01:52 PM
CamilleBalla:
My iPad types in ? instead of quotation marks at this site. Readers, please know it should be quotation marks, I?ll try to remember not to use quotes.
Posted 02/16/2019 11:24 AM
CamilleBalla:
Nice splash of contrasts. ?... Drumming echoes clear through the cold.? Nice. Sweet ending
Posted 02/16/2019 11:21 AM
Janet Leahy:
Love the "flash and crash of crimson" and the music the woodpecker brings to the still woods. Very visual and great language of contrast, then the surprise reference to a valentine bringing us cheer. Great poem, thanks Jan.
Posted 02/16/2019 08:34 AM
wordartdjc:
Sweet poem. Yes, a bit of unexpected cheer perks up our spirit. It is gloomy and rainy here today.
Posted 02/16/2019 08:25 AM
paradea:
I like this poem.
Posted 02/16/2019 06:38 AM