To think to know the country and not know
The hillside on the day the sun lets go
Ten million silver lizards out of snow!
As often as I've seen it done before
I can't pretend to tell the way it's done.
It looks as if some magic of the sun
Lifted the rug that bred them on the floor
And the light breaking on them made them run.
But if I thought to stop the wet stampede,
And caught one silver lizard by the tail,
And put my foot on one without avail,
And threw myself wet-elbowed and wet-kneed
In front of twenty others' wriggling speed,
In the confusion of them all aglitter,
And birds that joined in the excited fun
By doubling and redoubling song and twitter,
I have no doubt I'd end by holding none.

It takes the moon for this. The sun's a wizard
By all I tell; but so's the moon a witch.
From the high west she makes a gentle cast
And suddenly, without a jerk or twitch,
She has her spell on every single lizard.
I fancied when I looked at six o'clock
The swarm still ran and scuttled just as fast.
The moon was waiting for her chill effect.
I looked at nine: the swarm was turned to rock
In every lifelike posture of the swarm,
Transfixed on mountain slopes almost erect.
Across each other and side by side they lay.
The spell that so could hold them as they were
Was wrought through trees without a breath of storm
To make a leaf, if there had been one, stir.
It was the moon's: she held them until day,
One lizard at the end of every ray.
The thought of my attempting such a stay!


This poem is in the public domain.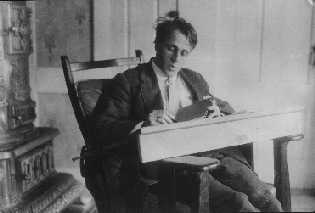 Robert Frost (1874-1963) was born in San Francisco, but moved to Massachusetts with his family after his father's death in 1885 and, ultimately, lived in a number of homes and farms throughout New England. Though he attended several prestigious colleges and universities, he never graduated from any of them. Nonetheless, Robert spent most of his adult life teaching, receiving more than forty honorary degrees, along with four Pulitzer Prizes. Robert's interest in poetry started early; he published his first poem while in high school, sold his first poem at twenty, and by the age of forty, was one of America's best known and best loved poets. Rural life is a consistent theme in Robert's poetry, as is simplistic language that is pleasing to the ear; he felt strongly that poetry was best appreciated when read aloud.
wordartdjc:
How eloquent and full of unusual thought goes into this poem. I have never dreamed of lizards in that white stuff that is lovely here for only one day and then gone! Frost was again 'out of the box'.
Posted 02/20/2019 03:26 PM
Larry Schug:
Frosts ability and talent show me how important is every minute of our lives and to pay attention. This poems takes me out of myself and places me in another reality, something, I think, as poets we strive to do.
Posted 02/20/2019 12:31 PM
barbsteff:
Wow! I am in awe.
Posted 02/20/2019 11:54 AM
Connye:
Robert Frost once described poetry as "jarring" the imagination. This poem jars mine. It transforms one natural image to help me understand another. Thank you, Mr. Frost--and YDP.
Posted 02/20/2019 09:52 AM
KevinArnold:
Dense and full of unexpected, endearing, diversions.
Posted 02/20/2019 09:20 AM
cork:
Frost on frost.
Posted 02/20/2019 08:28 AM
michael escoubas:
This is a new Frost poem for me. Excellent February post! One pictures the thawing hillside.
Posted 02/20/2019 08:23 AM
paradea:
I love Robert Frost's work. This is no exception. Thanks, Jane.
Posted 02/20/2019 07:55 AM