Yesterday's south wind rushed warmth
to February snow. Today the earth
is boggy with new grass, tattered white
in crannies on north sides of things.
Daffodils finger their way toward light,
and old women's feet no longer tremble
on their way to market.


© by Sarah Russell.
Used with the author's permission.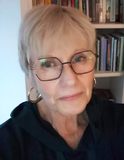 Sarah Russell lives in State College, Pennsylvania with a patient husband and a curly dog named Smudge. Her poetry and short fiction have appeared in a variety of magazines and journals and her first collection, I Lost Summer Somewhere, will be published by Kelsay Press in May. Learn more about Sarah at www.SarahRussellPoetry.net.
Sarah Russell:
Thank you, Everyone!
Posted 02/27/2019 08:14 AM
Lori Levy:
Love the language of this poem.
Posted 02/26/2019 05:16 PM
rstockho@gmail.com:
What a fun read! Thanks.
Posted 02/26/2019 01:10 PM
wendy morton:
Lovely images.
Posted 02/26/2019 11:39 AM
Jean Colonomos-1:
I admire your short poem, jam packed with meaning.
Posted 02/26/2019 09:35 AM
cork:
I love the title.
Posted 02/26/2019 08:44 AM
wordartdjc:
Concise and sweet. Yes, how we all long for springtime.
Posted 02/26/2019 08:41 AM
paradea:
Extraordinary in the ordinary. Great poem!!
Posted 02/26/2019 08:38 AM
Janet Leahy:
And praise for the daffodils as they" finger their way to light." Thanks Sarah.
Posted 02/26/2019 08:32 AM
KevinArnold:
Sarah makes us all thankful for dry, non-trembling feet.
Posted 02/26/2019 01:36 AM