Stepping from the shower
Monday morning
I towel my feet, doubting
my strength to walk
to the closet, much less
all those miles to Friday.
†
But somehow Monday
melts into Tuesday, like
butter on toast.
†
Wednesday whirs by
on a motorboat, waving.
†
Thursday is a carrier pigeon,
cooing with news
of the coming weekend.
†
A few more steps.
Iím drying my feet again,
sore, in need of Saturday sleep,
but surprised by how fast
I traveled
all those miles to Friday.


© by Jacqueline Jules.
Used here with the authorís permission.
†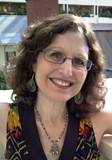 Jacqueline Jules is a former librarian who found herself intrigued by almost every book she put on the shelf. As a reader and as a writer, she doesnít restrict herself to one genre. A resident of Virginia, Jacqueline is the author of 40 books for young readers on a wide variety of topics. Her poetry has appeared in more than 100 publications, including three chapbooks: Field Trip to the Museum (Finishing Line Press), Stronger Than Cleopatra (ELJ Publications), and Itzhak Perlmanís Broken String (Evening Street Press.)† Learn more about Jacqueline at www.jacquelinejules.com.
Lori Levy:
Love the way the poet presents the "miles to Friday."
Posted 02/25/2019 03:44 PM
wordartdjc:
A homebound daughter calls me every Monday and this, the highlight of my week, makes all the remainder of the days fly in joyous thanks.
Posted 02/25/2019 09:10 AM
michael escoubas:
Quite unique! I'm passing this on to others once I dry off my feet. Thank you!
Posted 02/25/2019 08:43 AM
Jancan:
Very creative and uplifting. Janice
Posted 02/25/2019 08:38 AM
cork:
Monday happens to be my favorite day of the week because I consider it the start of something big.
Posted 02/25/2019 08:37 AM
Larry Schug:
Oops, I meant "you know what"
Posted 02/25/2019 07:21 AM
Larry Schug:
The bad part of retirement is getting older and closer to you now what. The good part is not having to go through the scenario, so well described in this poem.
Posted 02/25/2019 07:20 AM