Hopewell, NJ
 
As we drive past the cemetery,
four-year-old Leah says, Let's stop.
I want to see the dead people.
 
I pull the car over and unlatch the iron gate.
As we walk among the rows,
the wind gusts dry leaves in our path.
 
Do dead people know they are dead? she asks.
Before I can think what to say—another question,
How do dead people eat?
They aren't hungry anymore, I reply.
 
Leah points to a low stone. What does it say?
A child about her age is buried there.
Rather than explain, I say simply,
Her name was Catherine.
 
And that is enough to satisfy Leah today.

 
This poem first appeared in Literary Mama.
Used here with the author's permission.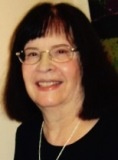 After working for decades as a social worker, Nancy Scott is now an author and an artist. She started writing poetry in the mid-'90s, hoping that her work would eventually be published somewhere; her latest work, Marriage by Fire, is a novella released last January. A chance conversation about a workshop got Nancy interested in collages; her work is now frequently hung in juried shows and, sometimes, her poetry and art are featured together. Learn more about Nancy at www.nancyscott.net.
wordartdjc:
A lovely and unusual subject poem. It makes an adult have to think promptly as to the right words to reply.
Posted 02/25/2019 09:03 AM
Lori Levy:
Beautifully expressed.
Posted 02/24/2019 02:09 PM
michael escoubas:
Like the wisdom contained in this poem.
Posted 02/24/2019 01:54 PM
Sarah Russell:
Really lovely!
Posted 02/24/2019 12:13 PM
joecot:
The iron gate, dry leaves, low stone, Catherine. And Leah. Such a touching collage.
Posted 02/24/2019 12:03 PM
KevinArnold:
Elusively simple, wonderful poem. Brava!
Posted 02/24/2019 11:08 AM
Jo:
The quiet in the poem is lovely--the questions become part of that overall effect.
Posted 02/24/2019 11:01 AM
cork:
I am old and ask these same questions.
Posted 02/24/2019 10:21 AM
Jean Colonomos-1:
Soft, beautiful.
Posted 02/24/2019 09:15 AM
Richard Greene:
Beautiful restraint in the ending. As the Roman critic Maurus Servius Honoratus said, "The art of poetry is not to say everything."
Posted 02/24/2019 08:57 AM
Randy Cadenhead:
A poem crafted from the mouths of babes.
Posted 02/24/2019 07:03 AM