None knows the day that friends must part
None knows how near is sorrow;
If there be laughter in your heart,
Don't hold it for to-morrow.
Smile all the smiles you can to-day;
Grief waits for all along the way.
To-day is ours for joy and mirth;
We may be sad to-morrow;
Then let us sing for all we've worth,
Nor give a thought to sorrow.
None knows what lies along the way;
Let's smile what smiles we can to-day.


This poem is in the public domain.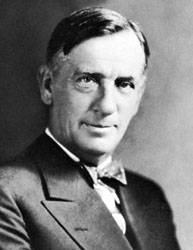 Edgar Guest (1881 - 1959) was born in England, but moved with his family to Detroit, Michigan, when he was ten years old. He worked for more than sixty years at the Detroit Free Press, publishing his first poem at the age of seventeen, then going on to become a reporter and columnist whose work was featured in hundreds of newspapers around the country. Edgar is said to have written some 11,000 poems during his lifetime, most of it sentimental, short, upbeat verse. Critics often derided his work, but America adored him. He was known as the "People's Poet," served as Michigan's poet laureate, hosted a long-running radio show and TV show, and published more than twenty books.
KevinArnold:
Yes, yes.
Posted 02/28/2019 09:17 AM
cork:
In grade school I had to memorize his poem about Henry Ford. His is the greatest influence on my own poetry.
Posted 02/28/2019 08:51 AM
wordartdjc:
Always believing in the 'common' man, Edgar brought joy to many and to some the love of poetry. Yes, make this day joyful
Posted 02/28/2019 08:36 AM
Jean :D:
My deceased mother loved Edgar Guest. His poems were always our bedtime stories when we were young. This one is so "right".
Posted 02/28/2019 07:26 AM