Wine, beautiful child of the earth, we salute you
Earth and sun contained in a cup
Of ruby, topaz and light
Velvet, loving and strong
Giver of life, friends and joy
Gift of heaven that lights the soul
We thank you.


This poem first appeared in ARTS Obispo (2018).
Used here with the authorís permission.
†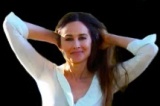 Diane Arkenstone is a recording artist who lives on California's Central Coast. She wrote her first song at the age of three, and picked up her first guitar at the age of seven. Learn more about her at dianearkenstone.com/.
Lori Levy:
Love "Earth and sun contained in a cup..."
Posted 03/03/2019 10:57 PM
cork:
In vino, veritas!
Posted 03/03/2019 10:09 AM
michael escoubas:
Wonderful take on one of life's simple pleasures. Thank you, Diane!
Posted 03/03/2019 08:18 AM