My son's friend likes Shakespeare
but hates school. Emmett's a roughneck,
a red neck, a trampoline-jumping,
video-game-thumping player.
He's read Hamlet and Macbeth.
Thinks they're cool. But damnéd
Ds adorn his report card
like spells on the breath of witches
or stubborn spots on a lady's hands.
So when their teacher assigns a paper
to discuss a book
the students have never read,
Emmett picks Hamlet.
"But you already read that,"
my son with his ethics in tow
and clever 4.0 says.
"I know," Emmett says, his brilliant
method burning through the mask
of his matter-of-fact madness.
"And she'd never believe it."


From Full Worm Moon: A Book of Poems (Cascade Books, 2018).
This poem first appeared in Verse Wisconsin (Summer 2010).
Used here with the author's permission.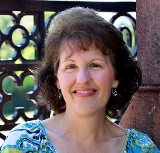 Julie L. Moore believes that writing poetry is as vital as seeking justice, embracing beauty, and emulating goodness. Author of Particular Scandals (2013), Slipping Out of Bloom (2010), and the chapbook Election Day (2006), Julie's most recent book of poems is Full Worm Moon, published in The Poiema Poetry Series by Cascade Books in 2018. Julie lives in Indiana, where she teaches and directs the Writing Center at Taylor University. Learn more about her at www.julielmoore.com.
Larry Schug:
Right on, Emmett!
Posted 03/12/2019 04:43 PM
wordartdjc:
Poems that tell a story are my favorite at present..Great and thoughtful poem.
Posted 03/04/2019 10:38 PM
Lori Levy:
Love the portrayal of Emmett in this poem.
Posted 03/04/2019 07:59 PM
Jo:
Julie, What a splendid poem. This happens all too often. Good to see you here.
Posted 03/04/2019 02:08 PM
Janet Leahy:
What a smart last line, it tells us how very clever Emmett is, thanks Julie
Posted 03/04/2019 11:45 AM
KevinArnold:
Oh. I never ?got? high school either, so this resonates with me, and my sultry adolescent James Dean fan within.
Posted 03/04/2019 09:32 AM
bbatcher:
Well done! I like the two-syllable damn?d Ds and the two similes that follow.
Posted 03/04/2019 06:23 AM