we'd ever seen. Her age, seventeen.
Learned the trade from her dad.
After hazing (nothing nasty),
we sort of normalized her. Sort of not.
Found reasons to be within sight of her for crown
molding as she was short and had to stretch — until
she called us creepy and we stopped. But, jeez,
hanging a door was like a ballet, strength and grace.
Not classic beauty, more stocky and square.
We gave her the tasks where perfect would count.
Because she was.

By end of summer we all treated her
like a kid sister. She brought Vivaldi
for the boom box to replace our twangy slop.
She chalked little flowers, hearts and dragonflies
in the rough opening before trimming the frame
so in demolition a century from now
somebody might find them.
Earned enough for first semester at college.
Promised she'd come back and visit.

Maybe she forgot.
Maybe she met some brooding poet.
We speak of her sometimes after all these years.
It's like opening a wall,
finding a chalk dragonfly.


© by Joe Cottonwood.
Used here with the author's permission.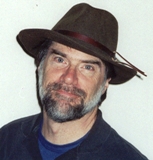 Joe Cottonwood is a semi-retired contractor with a lifetime of small jobs repairing homes. He lives with his high school sweetheart under redwoods in the Santa Cruz Mountains of California caring for curly-haired dogs and straight-haired grandchildren. His latest book is Foggy Dog: Poems of the Pacific Coast. Learn more at www.joecottonwood.com.
Lori Levy:
Especially love the last verse.
Posted 03/07/2019 11:21 PM
Jancan:
Love this poem--especially the end! Jancan
Posted 03/07/2019 09:25 PM
BAMars:
Love this story,and half-wish I had learned carpentry, but I guess I get to be the brooding poet!
Posted 03/07/2019 04:07 PM
tomadodd:
Perfect Joe. We leave the poems to you that need to be perfect.
Posted 03/07/2019 01:53 PM
Janet Leahy:
I hope she did meet a poet, not too brooding but perfect for her. I love the way when you speak of her its like "finding a chalk dragonfly." Thanks Joe.
Posted 03/07/2019 01:20 PM
Jo:
Loved reading this poem. She made everything she touched better, "like opening a wall, finding a chalk dragonfly.
Posted 03/07/2019 01:02 PM
wendy morton:
A poem full of grace. Dragonflies.
Posted 03/07/2019 11:38 AM
vibiaperpetua@gmail.com:
Lovely!
Posted 03/07/2019 11:13 AM
KevinArnold:
So matter-of-fact, the voice of an honest broker.
Posted 03/07/2019 10:49 AM
wordartdjc:
What a beautiful poem honoring the much deserved young woman. I really love this poem. Hooray for womanhood! The Dragonfly added a wonderful touch.
Posted 03/07/2019 09:08 AM
cork:
I see the beaver tracks around the finish nail that make me proud of my daughter.
Posted 03/07/2019 08:44 AM
paradea:
I love this!!!Thanks, Joe!!
Posted 03/07/2019 08:29 AM
michael escoubas:
Poetry is about truth! And here we have it! Thank you Joe.
Posted 03/07/2019 08:25 AM
Sarah Russell:
Just great, Joe. I love to read your poems!
Posted 03/07/2019 07:42 AM
Randy Cadenhead:
An entirely new genre of love poem!
Posted 03/07/2019 07:16 AM
jeeger:
I loved this! My dad was a carpenter and I realized I learned more than other people knew about carpentry. It really was an art!
Posted 03/07/2019 06:24 AM