How old would you be if you didn't know how old you are?
                                                                            -Satchel Paige

Some days I am 18.
The world blazes with possibility.
A song urges me to sing it aloud in public.
I love and am loved.

Some days I am 8.
The world is full of dust
and I hold the dustcloth.
Saints are real;
I know their stories by heart.

Some days I am 35.
I am everyone's mother.
My chapped hands are proof
of my existence.

Some days I am 5.
I hold a pencil as if for the first time.
Words are everywhere.
Stories beckon.

Some days I am 44.
I am an orphan.
There is a tunnel
at the end of the light.

Some days I am 64.
The days are thick with reality.
My voice and joints crack.
The gloaming is the day's last gift.

Some days I am ageless.
The world is so beautiful it hurts.
The world is so terrible it hurts.


This poem first appeared in Voices from Here 2: The Paulinskill Poetry Project, 2017.
Used here with the author's permission.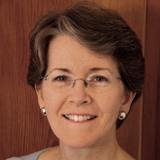 Pat Brisson is a former elementary school teacher, school librarian, and reference librarian in a public library. She has been writing picture books and easy-to-read chapter books for almost thirty years. Pat coordinates Project Storybook, a program at Edna Mahan Correctional Facility for Women in Clinton, New Jersey, which allows incarcerated mothers to select, record and mail books and tapes to their children. She received the N. J. Governor's Volunteer Award in Human Services for this wonderful project. Pat lives in Phillipsburg, New Jersey; learn more about her at www.patbrisson.com.
barbsteff:
Outstanding in ideas and imagery!
Posted 03/09/2019 12:07 AM
Jo:
LOVE THIS POEM AND THE QUESTIONS IT PROPOSES. THANKS, PAT.
Posted 03/08/2019 07:33 PM
Lori Levy:
Great poem!
Posted 03/08/2019 06:44 PM
wordartdjc:
Such joy in this poetry. You can certainly tell that she has had and is having a thoughtful and lovely life.
Posted 03/08/2019 10:35 AM
Jean Colonomos-1:
Love the scope of this.
Posted 03/08/2019 10:33 AM
cork:
I will stay alert for the gloaming.
Posted 03/08/2019 08:36 AM
paradea:
This is great!!!
Posted 03/08/2019 08:35 AM
michael escoubas:
Wonderful insights Pat. Unique poem.
Posted 03/08/2019 08:27 AM
plgoodman:
Beautifully constructed. I love the anaphora and the ending is enviable. Well done!
Posted 03/08/2019 07:51 AM
paula:
I love this poem!
Posted 03/08/2019 06:12 AM
KevinArnold:
What a wonderful notion of a poem, and so well executed.
Posted 03/08/2019 05:38 AM