I come from a farmhouse stoop at dusk,
cocooned in the comfort of grasshoppers' symphonies
and the fragrance of freshly mown hay.
 
From the mystery of a deep woods
where Chippewa Indians hunted
not so long ago.
My fingers held the proof,
the arrowheads they left for me to find,
just below the surface.
 
From pansies picked with my grandfather,
and peas shucked for my mother,
a grove of pines planted with my father,
a dog-wolf puppy bestowed by my grandmother.
 
From hardworking pioneers,
generations of westward migration;
demonstrating by their histories
how to live with drive and determination -
Catholics, Mennonites, Methodists,
veterans of all the colossal wars
since our country commenced.
 
I come from a life like a diamond,
shining with multifaceted blessings,
the only thing I needed -
a lifetime of being cherished. 


© by Carolyn Casas.
Used with the author's permission.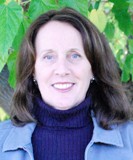 Carolyn Chilton Casas lives on the central coast of California and is a Reiki therapy practitioner. A writer, poet, and student of metaphysics and healing, she co-founded a women's circle in her area to raise money for Guatemalan women living at poverty level to start businesses to support their families. Carolyn also raises funds for an organization in Nicaragua that supports children's education.
wordartdjc:
Lovely
Posted 03/13/2019 09:36 AM
Lori Levy:
Beautiful images of farm life.
Posted 03/11/2019 05:40 PM
barbsteff:
Outstanding images! I've done this prompt twice. Wish I'd thought of some of the images or ideas she's put forth.
Posted 03/11/2019 04:31 PM
michael escoubas:
Thank you Carolyn! You've just given me my writing prompt for tomorrow. Delightful poem.
Posted 03/11/2019 12:37 PM
Jancan:
This beautiful, moving poem shows an appreciation for all people--an inclusiveness. Jancan
Posted 03/11/2019 11:09 AM
bersone:
I like the sensuality and reverence for lives past but the Indian reference brings up a complicated theme. If they left the arrowhead for you to find, What did they intend you shoot with it?
Posted 03/11/2019 10:57 AM
KevinArnold:
Such warm and thankful and hopeful work. A thought-provoking snapshot of white America, so pummeled from the rough outside, from the tender inside.
Posted 03/11/2019 09:02 AM