Welcome, welcome, little stranger,
    Fear no harm, and fear no danger;
We are glad to see you here,
    For you sing, "Sweet Spring is near."

Now the white snow melts away;
    Now the flowers blossom gay:
Come, dear bird, and build your nest,
    For we love our robin best.


This poem is in the public domain.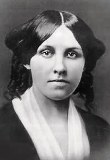 Louisa May Alcott was one of four daughters born to Bronson and May Alcott. Poverty was their constant companion; Mr. Alcott spent most of his life teaching and philosophizing and Louisa worked from an early age to help with expenses. She worked as a governess, a seamstress, a laundress, and a nurse but, at heart, she was always a writer. Her work ranged from gentle children's stories to torrid romances; her first book, published at the age of 23, was a collection of stories for Ralph Waldo Emerson's daughter, who was a friend and neighbor. (Other neighbors in Concord, Massachusetts, included Henry David Thoreau and Nathaniel Hawthorne.) Louisa's best known work is Little Women, which has never been out of print since it was first published in 1868; it has been translated into more than fifty languages.
lover:
never knew miss alcott wrote poems as well!! this has been a delight
Posted 08/06/2020 06:11 PM
barbsteff:
My sentiments exactly. Used to be March 11 was when they showed up in our Wisconsin neighborhood. Haven't seen or heard one yet, but then, about a foot of snow is busy melting outside. I have seen them come back and it snowed the next day and they sat around looking disgusted, as I anthropomorphize it.
Posted 03/13/2019 05:10 PM
wordartdjc:
Happy, happy poem. My Robin is not seen yet.
Posted 03/13/2019 09:27 AM
cork:
I love the rhythm and the rhyme. Now I await the first robin.
Posted 03/12/2019 08:59 AM
michael escoubas:
Simplicity and profundity. Poetry at its best. Thank you!
Posted 03/12/2019 08:24 AM
Jean :D:
Never read this poem, it's so delightful.
Posted 03/12/2019 06:59 AM